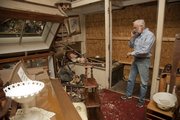 A week after a car crashed into a concrete sidewalk planter and sent debris flying through the facade of Strong's Antiques on Massachusetts Street, damage estimates are only beginning to come in.
Storeowner Gary Strong said he's met with an insurance adjuster and structural engineer and is awaiting estimates. The store has remained in disarray since the accident for insurance and police inspections, and Strong said he has no timeline of when he can begin the cleanup and reopen.
According to an accident report, a vehicle driven by Dana Jones, 38, of Johnson County, was traveling north on Massachusetts Street when Jones lost control and the vehicle left the road in the 1000 block shortly after 3 a.m. last Saturday.
As of Thursday, Jones was in fair condition at Kansas University Hospital, according to Bob Hallinan, a spokesperson. An update on a passenger, Anastasia Brothers, 22, of Lawrence, was not available.
Megan Gilliland, a spokeswoman for the city of Lawrence, said the city estimates a cost of $2,600, not including labor, to replace a damaged light pole. The costs associated with the damaged planter, a removed sidewalk bench and tree are not yet known.
Strong said the engine of the vehicle flew through the windows and hit a wall inside. Cary Strong, Gary's son and owner of neighboring Aimee's Cafe and Coffeehouse, said the store's best items were recently placed up front for window viewing. Now what's left are shards of glass and china on the floor.
"The whole front of the store has to be rebuilt," Gary Strong said. "The whole framework, the header. It tore the whole front of the store pretty much off."
Copyright 2018 The Lawrence Journal-World. All rights reserved. This material may not be published, broadcast, rewritten or redistributed. We strive to uphold our values for every story published.