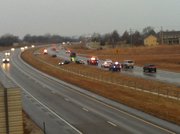 Lawrence crews will treat roads throughout the day and will be on duty until the current spate of snow and freezing rain is over, probably about mid-morning on Saturday, according to city officials.
Freezing rain posed a challenge for some commuters this morning. By 7:30 a.m. Douglas County dispatchers reported multiple non-injury accidents, particularly along Kansas Highway 10 near Eudora and U.S. Highway 59 south of Lawrence. Dispatchers confirmed reports of slick roadways.
Despite previous forecasts of three to six inches of snow by Saturday morning, the National Weather Service has revised its forecasts downward. The Douglas County area is now expected to receive between one and two inches of snow. The latest estimates predict mostly rain this afternoon with snowfall beginning around sunset and tapering off by sunrise.
Lawrence officials encouraged motorists to slow down and drive carefully on wet, slick roads.
The city said it would update www.lawrenceks.org/snow with information as needed about snow and road conditions.
The National Weather Service in Topeka issued another winter weather advisory for Douglas County and surrounding areas beginning at 9 p.m. this evening to last through 6 a.m. Saturday.
Copyright 2018 The Lawrence Journal-World. All rights reserved. This material may not be published, broadcast, rewritten or redistributed. We strive to uphold our values for every story published.