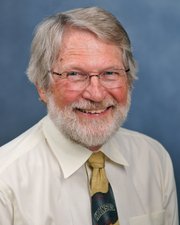 Douglas Dechairo has been named the new director of Watkins Memorial Student Health Center at Kansas University.
Dechairo graduated from KU with a bachelor's degree in chemistry in 1962 and received his medical degree from KU Medical Center in 1966. After serving eight years as a lieutenant commander in the Navy, Dechairo worked in multiple clinical and teaching capacities in the San Diego area.
In 2011, Dechairo returned to Lawrence to retire. He worked as a part-time physician with Student Health Services before becoming Chief of Staff this August.
As director, Dechairo will oversee the student health program, which includes outpatient treatment, gynecology, pharmacy, laboratory, X-ray, physical therapy and health education. He also has the responsibility of providing expert consultation to Kansas University administrators regarding health-related matters affecting the student body.
Dechairo said he hopes to develop relationships between the Student Health Center and other departments at the university in order to increase students' accessibility to health care.
"My answer is to really improve the availability of student health services and to try to improve the chances of student success while they are here," Dechairo said.
Copyright 2018 The Lawrence Journal-World. All rights reserved. This material may not be published, broadcast, rewritten or redistributed. We strive to uphold our values for every story published.