More coverage: Gianfranco Villagomez-Saldana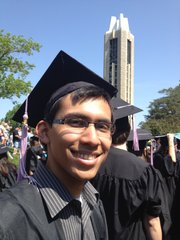 Memorial services have been set for Kansas University student Gianfranco Villagomez-Saldana, and friends have created an online fundraiser to help his family with funeral and travel costs.
Villagomez-Saldana, who came to KU from Lima, Peru, was missing two days before he was found dead Monday outside a house in the 800 block of Avalon Road. He was last seen early Saturday morning leaving a party in the 800 block of Michigan Street.
His cause of death remains unknown. Police continue to investigate, and autopsy results are pending.
Villagomez-Saldana's family announced memorial services through KU officials. An informal gathering to celebrate his life is planned for 5:30 p.m. Friday at Ecumenical Campus Ministries, 1204 Oread Ave. Viewing and visitation is set for 1 p.m. Saturday at St. John the Evangelist Catholic Church, 1229 Vermont St. Mass will follow at 2 p.m.
Friends have a goal of raising $14,000 to help Villagomez-Saldana's immediate family pay for airfare from Peru, funeral costs and shipping to get his belongings home, according to the "Help Find Gianfranco Villagomez" Facebook page, which encourages donations to the fund via PayPal.
The fund is not affiliated with a bank. To donate through the PayPal account, click here.
Frontier Forensics in Kansas City, Kan., which performs autopsies for Douglas County, has completed an autopsy on Villagomez-Saldana's body but is awaiting toxicology and other test results, a representative of the company confirmed Thursday. The autopsy report is not expected to be released for 10 to 12 weeks, after test results are complete.
Police are not releasing any preliminary autopsy results, Lawrence police spokesman Sgt. Trent McKinley said. At this time, there's no indication Villagomez-Saldana was the victim of foul play, McKinley said, but the death investigation remains open.
Anyone with information on what may have happened to him is asked to call the Lawrence Police Department's investigation unit at 830-7430.
Copyright 2018 The Lawrence Journal-World. All rights reserved. This material may not be published, broadcast, rewritten or redistributed. We strive to uphold our values for every story published.