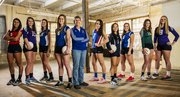 Player of the year
Shelby Dahl, Santa Fe Trail
En route to the Chargers' Class 4A, Division II state championship, the senior outside hitter flew all over the court. Dahl scored 250 serving points (39 aces) and 351 kills, while providing 68 blocks and 257 digs in a magical season for Santa Fe Trail (39-5).
Coach of the year
Joy Schmidt, Santa Fe Trail
On the strength of an outstanding senior six — Dahl, Jaeden Romine, Megan Zaldivar, Ashtyn Mentzer, Amber Moore and Veronica Forbes — the Chargers recovered from a pool-play loss to Wichita Trinity Academy at state to beat the Knights in the 4A-II championship final.
First Team
Hannah Billings, Mill Valley — The top vote-getter among All-Kaw Valley League selections, the senior setter directed Mill Valley's 30-7 season that included a trip to the 5A state tournament. Billings, a Mo-Kan All-Star, passed out 902 assists to her Jaguars teammates.
Caitlin Broadwell, Lawrence — A starter since she arrived at LHS as a freshman, the senior concluded a stellar career with 177 kills after missing early-season matches while recovering from thyroid surgery. Her range and athleticism helped her get to 194 digs.
Shelby Dahl, Santa Fe Trail — Named to the 4A-II state tournament team, she excelled throughout the fall, no matter the scenario. Dahl, an outside hitter, received 213 serves in the Chargers' 44 matches and only committed 21 errors for the state champs.
Jordan Hoffman, Baldwin — The Bulldogs won three tournaments this fall with the junior outside hitter's help. Hoffman led the Bulldogs (33-7) with 369 kills and had a .359 hitting efficiency, with a .500 kill percentage for the No. 2 team in the Frontier League.
Grace Miller, Free State — Although FSHS had its struggles, the senior proved to be a leader on and off the floor for the Firebirds. Miller developed a reputation as one of the top players in the Sunflower League, and coaches rewarded her with a first-team all-league spot.
Molly Oshinski, Mill Valley — An outside hitter who made the Jaguars (30-7) unstoppable at times, the senior served up 31 aces, put away 280 kills, hustled to 316 digs and helped Mill Valley reach the 5A state tournament in her final year of competition.
Jaeden Romine, Santa Fe Trail — No one on the Chargers could swing above the net quite like Romine, a senior outside hitter. An all-state tournament team selection, she led the state champions with 402 kills, and also produced 54 aces, 118 blocks and 214 digs.
Ashley Sparks, Wellsville — The Eagles never lost a match in Pioneer League play and finished the season 31-9, with the junior outside hitter crushing the ball every time WHS took the floor. Sparks pounded 355 kills, became the team's top service returner and had 197 digs.
Alexia Stein, Baldwin — The versatile junior not only led the Bulldogs with 50 aces when she stepped back to serve, she thwarted opponents' attempts at the net, too, with a BHS-best 35 stuffs. Stein, who occupied the middle of the floor, also scored 320 kills.
Megan Zaldivar, Santa Fe Trail — The do-it-all senior typically took the first set in the Chargers' attack, but she filled in as a primary setter, too, and finished the season with 498 assists and just 22 errors. Zaldivar added 184 digs, 49 blocks and 29 aces for the 4A-II champs.
Honorable mention
Ellen Almanza, Bishop Seabury; Lacey Billings, Veritas Christian; Summer Cerny, McLouth; Paige Corcoran, Free State; Taylor Cowan, Mill Valley; Halsten Coyle, Perry-Lecompton; Caroline Dykes, Lawrence; Kylie Foster, Ottawa; Kenna Hall, De Soto; Taylor Hodge, Bishop Seabury; Teri Huslig, Veritas Christian; Morgan Knapp, Free State; Jess Lemus, Lawrence; Reilly Malone, Bishop Seabury; Marissa Martin, Tonganoxie; Kaitlin McAlister, Perry-Lecompton; Brette Moore, Ottawa; Emily Newhouse, Wellsville; Karly Patton, Wellsville; Emma Taylor, Perry-Lecompton; and Corey Valentine, Baldwin.
Copyright 2018 The Lawrence Journal-World. All rights reserved. This material may not be published, broadcast, rewritten or redistributed. We strive to uphold our values for every story published.