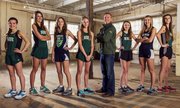 Runner of the year:
Emily Venters, Free State
Just a freshman, Venters burst onto the cross country scene with an amazing fall, capped by a first-place finish at the Class 6A state championship, which helped the Firebirds make program history with their first team title.
Coach of the year:
Chris McAfee, De Soto
The Wildcats coach saw runners Meredith Wolfe, Annie Schmucker, Rebekah Burgweger, Bri Jenson, Jaycie Thaemert and Kate Barger go unbeaten in the postseason, with Frontier League, regional and 4A state championships.
First Team
Amber Akin, Mill Valley — After winning a Kaw Valley League Championship, the sophomore helped Mill Valley finish the season with its best showing at state: third place. Akin raced to a ninth-place medal at the 5A state meet.
Kate Albrecht, Bishop Seabury Academy — Already the school record-holder for a 4K finish, the senior lowered that standard to 15:06 this season. Albrecht won four meets and finished sixth at the 2A state championship in her final race.
Rebekah Burgweger, De Soto — The senior had a great finish to her career, as a member of the DHS state championship team. Burgweger took sixth in the Frontier League, third at a regional and 14th at the 4A state meet.
Claire Sanner, Free State — One of the runners who made the Firebirds elite, the sophomore won the Olathe East Invitational, set a program record for the 5K in winning the Millard South (Neb.) Invite in 19:16.4 and took fifth at state.
Bailey Sullivan, Free State — A team leader who helped push Free State to a 6A team title, the senior finished fourth in the Sunflower League, second at a regional (personal 4K best of 14:52) and fourth in her prep finale at state.
Emily Venters, Free State — Before capping a fantastic fall with an individual title in her state debut, the freshman also picked up championships at Sunflower League and regional races. Her best time of 14:43 came a week before state.
Meredith Wolfe, De Soto — The junior helped propel the Wildcats to their terrific postseason. Wolfe finished second at De Soto's Frontier League and 4A regional races and placed sixth at state, where DHS captured the team title.
Honorable mention
Daelynn Anderson, Baldwin; Kelsey Balluch, Eudora; Emily Chambers, Tonganoxie; Addie Dick, Baldwin; Leah Gabler, Lawrence; Madison Hess, Perry-Lecompton; Ashleigh Hicks, Eudora; Lauren Jamison, Perry-Lecompton; Lexia Jamison, Perry-Lecompton; Lauren McDaniel, Wellsville; Laura Neilsen, Lawrence; Mackenzie Russell, Baldwin; Annie Schmucker, De Soto; Riley Shook, Lawrence; and Tressa Walker, Tonganoxie.
Copyright 2018 The Lawrence Journal-World. All rights reserved. This material may not be published, broadcast, rewritten or redistributed. We strive to uphold our values for every story published.