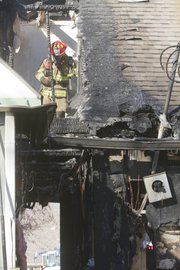 Fire officials are investigating the cause of a blaze that caused an estimated $135,000 in damages to a west Lawrence home Tuesday morning.
Lawrence-Douglas County Fire Medical crews arrived at the 900 block of Chalk Hill Court about 11 a.m. and had the fire under control in about 25 minutes, Chief Mark Bradford said.
The department determined the fire to be an accident due to improper discarding of fireplace ashes in a combustible container placed outside the home, according to a statement from the city of Lawrence.
A woman and her dog were evacuated from the house. Her husband and son were not home at the time of the fire, Bradford said. No civilian or fire service injuries were reported, the statement said.
Fire and smoke were seen extending through the roof from the rear of the two-story, single family home, the statement said.
Neighbor Jim Ward said he called 911 after the woman told him she had tried to put out an electric heater fire with a fire extinguisher but was unsuccessful.
Copyright 2018 The Lawrence Journal-World. All rights reserved. This material may not be published, broadcast, rewritten or redistributed. We strive to uphold our values for every story published.