In May, Kansas University gave Wendell Castle, father of the art furniture movement and a KU alumnus, an honorary doctorate of arts degree. On Thursday, Castle gave the university an honorary gift — a new piece of his artwork.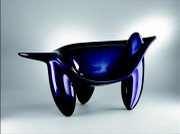 KU's Spencer Museum of Art is the new home of "Nirvana," Castle's 2007 blue polychromed fiberglass sculptural chair. The piece of art/furniture stands on three legs and measures 34-by-62-by-33 inches.
In reverence to his alma mater, Spencer Museum communications manager Gina Kaufmann said Castle tweaked the sculpture's original color to be closer to KU's signature shade of blue before he gifted it to the school.
The piece joins several of Castle's earlier pieces already in the museum's collection, including "Hanging in the Balance" (2002), "Nefertiti" (2002), "Monty" (1994) and "Octagonal-Based Table" (1981).
Castle graduated KU in 1958 with a bachelor of fine arts degree in industrial design and again in 1961 with a master of fine arts degree in sculpture.
It has yet to be determined how soon "Nirvana" will be on view at the museum.
Copyright 2018 The Lawrence Journal-World. All rights reserved. This material may not be published, broadcast, rewritten or redistributed. We strive to uphold our values for every story published.