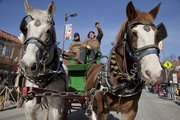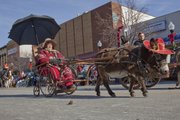 Saturday's cold led to an unusually short but typically cheerful Old-Fashioned Christmas Parade in downtown Lawrence.
Hooves clomping on cold pavement and wooden wagons creaking along were some of the sounds that accompanied the 21st year of the tradition on Massachusetts Street.
This year's parade included nearly 50 entries, according to Director Elaine VanDeventer, down from earlier forecasts of 76. Ice and snow that hit the South and Midwest caused cancellations, VanDeventer said. As the parade began the announcer said it was the coldest day ever for the event.
"It was still a good parade," VanDeventer said after the procession wrapped up in about a half hour. "It was extremely cold, but they're hearty souls."
Sunny skies made the west end of Massachusetts Street prime real estate for spectators while single-digit wind chills did little to depress turnout. Near 7th and Massachusetts streets Becky Weaver, of Baldwin City, bundled up with her brother's 2-year-old pug, Tank, each wrapped in the same green blanket. "Having a dog is probably the best warmth," she said.
As horses and donkeys filed past, 20-month-old Jayden Pogge-Rodgriguez, of Lawrence, tried to flutter his lips to offer his impression of the animals' sounds. "He's an animal lover," said his mother, Jodi Pogge-Rodriguez, as they stood on the parade route. Across the street, another set of parents provided commentary for their children as the Topeka Fire Department's 1904 steam pump passed by.
"That's a lot different than the way it is today," said Lisa Potter, of Lawrence, to her 7-year-old daughter, Lydia.
Ed Patterson, of Valley Falls, is part of the Third Kansas Light Artillery Reenactment Unit, one of the parade's new features this year to recognize the 150th anniversary of Quantrill's Raid. Extreme temperatures were nothing new for Patterson, who said he has endured events as cold as —4 F and as hot as 125 F. But "the older we get, the more it bothers us," Patterson said, smiling.
Copyright 2018 The Lawrence Journal-World. All rights reserved. This material may not be published, broadcast, rewritten or redistributed. We strive to uphold our values for every story published.