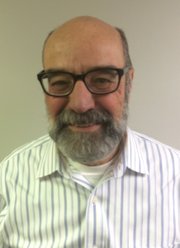 Headquarters Counseling Center board president David Moore announced Saturday night that Headquarters volunteer Steve Lopes will serve as the organization's new interim director.
Headquarters Counseling Center operates a suicide hotline and provides counseling and bereavement services. Controversy has swirled around the Headquarters board's recent parting of ways with longtime executive director Marcia Epstein, with many of her supporters expressing displeasure with the action. Epstein had served as executive director since 1979.
The organization's funding has reportedly declined by about 50 percent since 2011, leading the agency to recently cut its staffing from 24 hours a day to 8 a.m. to midnight.
Lopes said the board has a meeting planned with the National Suicide Prevention Lifeline to look at sources of funding and hopes to return the organization back to a 24-hour service "within months, if not weeks."
Lopes has been a volunteer with Headquarters since 2011. He has experience working with nonprofit organizations, having previously worked for the Kansas National Education Association for 30 years.
Copyright 2017 The Lawrence Journal-World. All rights reserved. This material may not be published, broadcast, rewritten or redistributed. We strive to uphold our values for every story published.