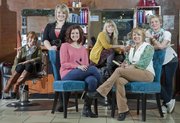 Stylists at Lawrence's Color Studio may very well spend their weekend sharpening their scissors. On Monday the salon is having a Cut-A-Thon — a full day devoted to $25 haircuts to raise money for wigs for cancer patients losing their hair.
And even after the Cut-A-Thon is over, the salon staff said it would offer free hair services to women going through chemotherapy, regardless of their financial situation, in partnership with the national non-profit group Friends Are By Your Side.
Four stylists and two assistants will cut hair on Monday, each stylist taking four-hour shifts. As of now, all of the appointment slots have been filled, but if all goes well the salon will do this once or twice a year. All proceeds are going toward the wig fund, according to salon owner and master designer LaVonna McAlister.
The effort is one of several in town available to help women facing chemo-related hair loss.
McAlister was introduced to Friends Are By Your Side at a conference where celebrity hair stylist Martino Cartier spoke about providing a wig to an 11-year-old girl battling cancer.
Four weeks following the conference, McAlister met a Lawrence woman going through aggressive radiation treatment to fight brain cancer. She wasn't going to lose all of her hair, but did have spots of raw scalp.
"She didn't want to shave her head," McAlister said. "She just wanted support."
McAlister's client is a professor who wanted to keep her diagnosis private. None of the medical support she had received entailed keeping her hair.
"Doctors are trained to help patients through shaving their head, but if they don't want to do that, they don't know what to do," McAlister said. "She just felt insecure, and she's a professor. This is a brilliant woman."
Through a series of appointments, McAlister helped her client carefully wash her scalp, showed her styling options, like a low messy ponytail to cover bare spots, and provided her constant reassurance until her scalp healed. The professor was more than willing to pay for all of the appointments, but McAlister waived all costs.
"She hugged me and thanked me, and then with tears in her eyes she grabbed my face and said, 'do you know you're as important to me as my radiologist?'" McAlister said. "And I did. In a way, I gave her her life back. She was able to return to her normal life."
Stylist Emily Hoehn has family members who had been diagnosed with breast cancer, and she said she feels honored to participate in this event, having heard first-hand how hair loss affects morale.
"You feel self-conscious." Hoehn said. "You don't want to draw a lot of attention to you when you have to go through that. It's something else you don't get to feel good about."
There are other options to help local cancer patients who need wigs.
Mario's Closet, in the main lobby of Lawrence Memorial Hospital, 325 Maine St., is a boutique with two cosmetologists who will fit customers for high-quality wigs. The wigs are not free, but the LMH Auxiliary offers financial support to those who need it.
"If you can pay for it, that's great, but if you aren't able to do that, we will make sure you get a wig," said director of volunteer services Allyson Leland.
The local chapter of American Cancer Society also offers free used wigs to patients who meet financial requirements.
Copyright 2018 The Lawrence Journal-World. All rights reserved. This material may not be published, broadcast, rewritten or redistributed. We strive to uphold our values for every story published.