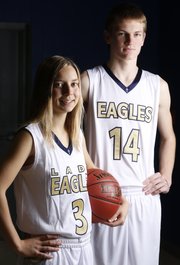 There are young basketball teams, and then there is the Veritas Christian boys basketball team.
The Eagles' first-year coach, Blake Mudd, has two proven varsity players, and neither is a senior. In fact, Veritas doesn't have a single soon-to-be high school graduate to put on the floor.
"We are very young, and we have to adjust to the speed of the varsity game," Mudd said.
If anybody can help facilitate that, it's sophomore guard Chad Stieben and junior guard Micah Edmondson, the team's top two returning players. Though the Eagles lost their season opener, 77-70, to Calvary Baptist before Thanksgiving break, Stieben scored 28 points.
Mudd, who coached the junior high Veritas boys the past four years, knows Stieben, Edmondson and most of the players well.
"Chad Stieben and Micah Edmondson will be the leaders on and off the court," Mudd said. "Those young men will keep our team focused and hungry."
So far, Mudd appreciates the team's athletic ability and thinks newcomers Miles Dressler, Mark Weinhold, Winston Wiebe, Michael Rask and Drake Napier should reciprocate the help of the team's leaders by chipping in themselves.
Girls basketball
If Kevin Shelton had his way, the Veritas girls basketball coach would have scheduled far more games after the December holiday break.
With so much youth on the Eagles roster, the 11th-year coach sure wouldn't have minded some extra preparation time.
"We are going to be relying upon a lot of freshmen this season," Shelton said, "and having these games prior to Christmas will be a challenge."
In particular, Veritas plays Topeka Cair Paravel and Topeka Heritage before January. Considering guards Tori Huslig and Hannah Gloss and forward Macie Dressler are the only key players back from last season's 13-13 team, Shelton is eager to see how soon the Eagles can find some consistency.
"We have to take care of the basketball, and we also have to pressure the basketball and cause turnovers, but without committing fouls," Shelton said. "This will also take some time to learn."
Freshmen Alyssa Krestan and Holly Scott, the coach thinks, could make an impact immediately.
"Our team speed and quickness," Shelton added, "will help us to pressure more this season, mainly from the young freshmen."
The Veritas girls and boys teams play today through Saturday at the Shea Invitational.
Copyright 2018 The Lawrence Journal-World. All rights reserved. This material may not be published, broadcast, rewritten or redistributed. We strive to uphold our values for every story published.