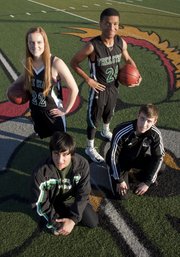 Some are young, some old and some in-between. The experience level varies greatly from team to team among winter sports programs at Free State High.
Here is a look at each that gets its season started this week.
Boys basketball
A team that finished its previous season with a losing record rarely can start the winter with legitimate state-tournament aspirations. Then again, most that fall in that category aren't like Free State's boys basketball team, which returns five senior starters who all played in the opening round of the 2013 Class 6A state tourney.
Guards Reshawn Caro and Keith Loneker, and forwards Cole Moreano, Khadre Lane and Blake Winslow, who lost to Blue Valley Northwest at state, all have extensive court time with each other under coach Chuck Law and know his system.
"So far, the leadership our seniors have provided has been unlike any I've seen at this school in quite awhile," Law said. "They've led both vocally and by example with their work ethic. If your seniors are your hardest workers, it usually translates to success on the court."
FSHS, which went 11-12 a year ago, and found its way late in the season, has guard Weston Hack back for his junior season. Senior Innocent Anavberokhai played last year, too. Guards Tristan Garber and Justin Narcomey and forward Keegan McKinney figure to provide the Firebirds support off the bench.
A December schedule that Law expects to challenge Free State begins Thursday at Kansas City (Mo.) Central.
Girls basketball
Coach Bryan Duncan knows what he has in guard Millie Shade and forward Scout Wiebe, both prominent pieces of last year's roster, but the rest of Free State's girls basketball team consists of primarily fresh faces.
Entering his 12th year with the program, Duncan has been doing this long enough that putting together a fairly young team won't be a new challenge.
"Three years ago we were in a similar situation, where starters were not even sure what to do during starting line-ups," the coach said. "We are not that inexperienced, but we certainly will need some game-time experience to find an identity."
While senior guard Maren Kahler at least played some varsity minutes a year ago, when FSHS went 16-6, and Adriana Jadlow has been in the program, freshmen Madison Piper and Naomi Hickman's next game in a Free State uniform (Thursday at Topeka) will also be their first.
That's where Wiebe's toughness and scoring will help the Firebids, as will a new role for Shade.
"Last year (Shade) relied on others to create for her," Duncan said. "This year she will create for herself and others."
Boys swimming
As much talent as coach Annette McDonald has to work with this winter, the Free State boys swimming coach knows she can't expect the Firebirds to just jump in the water and start winning meets.
"There is a learning curve that occurs over the first quarter of the season with athletes new to the team," the 13th-year coach pointed out. "There is a lot to learn for the newcomers."
McDonald feels good about the young and talented additions in swimming and diving, but she also has trust in the team's proven commodities: Kyle Yoder, Hunter Robinson, Jack Ziegler, Josh Terrell, Nolan Stopel, Cooper Schmiedeler and Brandon Bunting.
Adding swimmers Jordan Portella, Sydney Lin, Matthew Wilkus, Evan Yoder and Zach Denny, as well as diver Chad Bourdon, should keep Free State competitive, their coach predicted.
The FSHS season begins today with a home quadrangular.
Wrestling
Sure, Mike Gillman would have preferred to see his Free State wrestlers win a few more matches and finish better than 21st at the 6A state meet last season, but he couldn't be happier to have five grapplers with state experience back on the mat for FSHS this winter.
Colton Steele, Sam Skwarlo, Maurice Jacobs, Quailan Fowler and James Wensel now all know just how difficult it is to win at the season's final tournament,
"The kids that I have in the wrestling room have been working extremely hard this year," Gillman said, "and are motivated by goals they have set for themselves."
The FSHS coach expects his team's seniors to motivate newcomers, including Sky Carey, who will partner up with team leader Steele at practices.
The Firebirds' season starts Saturday at Gardner-Edgerton, where they could see members of state championship programs from Iowa and Nebraska, an Oklahoma state runner-up or highly regarded Kansas program St. James Academy.
Copyright 2018 The Lawrence Journal-World. All rights reserved. This material may not be published, broadcast, rewritten or redistributed. We strive to uphold our values for every story published.