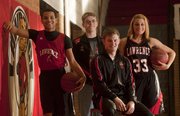 December is here, and for the athletes at Lawrence High, that means it is time for winter sports.
Here is a look at each LHS team that begins competing this week.
Boys basketball
For the talent Lawrence boys basketball coach Mike Lewis has coming back this winter, there sure doesn't seem to be any notion of accomplished players appointing themselves superior to their teammates.
Few backcourts in the Sunflower League have the chance to be as dynamic as the Lions' duo of junior guard Anthony Bonner and sophomore point guard Justin Roberts, but when Lewis examines his team's structure he notices foremost a "we is greater than me" mentality.
"A year of experience at the varsity level helps with confidence," Lewis said of the lead guards. "Both are confident players, good leaders, competitors, and want to lead our team."
Guards John Barbee and Connor Henrichs are back in Lawrence's perimeter-oriented attack, and Lewis projects forward Price Morgan and guards Ben Rajewski and Anthony Riley as key newcomers.
LHS finished 2012-13 with a 12-9 record, and its season ended in the first round of sub-state. For the Lions to go farther, and get to the Class 6A state tournament, Lewis wants to see his players turn up their team defense and outside shooting in tight games.
The Lions open their season Friday at home, against Junction City.
Girls basketball
Last season's 3-18 record hasn't lowered Lawrence girls basketball coach Nick Wood's optimism for the coming months. That's because the Lions have a number of veterans back for another run through the Sunflower League.
"We feel like our athleticism, mixed in with the ability to shoot the ball," Wood said, "will help us be very competitive."
Senior forwards Kionna Coleman and Makayla Bell, as well as junior guards Marissa Pope and Jolana Shield, give LHS a core that can play an uptempo style. Plus, this year marks Coleman and Pope's third season as starters.
If Lawrence wants to compete at a higher level, Wood needs his leaders helping along some sophomores and freshmen.
"Our biggest early-season challenge will be getting our younger girls used to what it takes to compete at a varsity 6A level," the coach said. "We are going to rely on a lot of younger talent to mix in with our returning players."
The Lions open their season Friday at Emporia.
Boys swimming
Don't get Lawrence boys swimming coach Kent McDonald wrong. He's thrilled with his team's numbers as the season begins. He is just realistic, and he knows a lot of the Lions are new to the program or aren't year-round swimmers. So just getting started might be the toughest part of the months to come, because they have to get in shape.
"It will show in the early meets," the eighth-year coach said of the newness of it all. "Also, the new swimmers will need to learn strokes other than freestyle, and the divers are all going to need to learn new dives."
LHS does have some experience on its side. Swimmers Caleb Axlund and Tim Schraad both competed at state last winter. John Eakes, Chase Odgers and Darren Rawlings return, too, as does diver Izaiah Bowie.
Early signs at practices, McDonald added, indicate newcomers Andy Freeman, Caelan Golledge, Patrick Oblon, Matt Ramaley, Jack Ryan, Alex Smith-Guana, Kiefer Stellwagon, Clayton Pfeifer and Daniel Wrigley should be able to help Lawrence's scoring.
LHS starts its season today at Free State's home quadrangular.
Wrestling
When Lawrence coach Pat Naughton or his assistants look around the wrestling room, they see a lot of faces looking back for guidance.
"We are very young," Naughton said, "as we have a lot of new student-athletes to the sport. I would say half of our roster is new to the sport. They're doing well, picking things up quickly."
It helps to have some older Lions who really know the ways of the mat. Alan Clothier won a third-place 6A state medal last season, and veterans Ryan Bellinger, Alex Jones, Xavier Kenney, Garrett Girard and John Jacobs can help bring the newbies along.
"It's important to have good senior leadership on the team," said Naughton, in his sixth year heading the program. "I feel like anyone of (the seniors) can step up at any time and get the team motivated and give support to younger members."
LHS should have a good bunch in its underclassmen, Naughton added, pointing to Isaias Rojo, Cy Burghart, Jeff Wescoat and Tucker Wilson.
Lawrence begins its season Saturday at Leavenworth.
Copyright 2018 The Lawrence Journal-World. All rights reserved. This material may not be published, broadcast, rewritten or redistributed. We strive to uphold our values for every story published.