KU news
More LJWorld KU News Coverage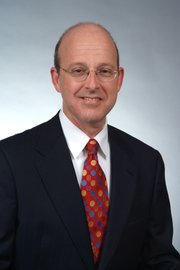 On Thursday another finalist for dean of the Kansas University School of Medicine will tour the KU Medical Center campuses and give an open presentation.
Michael Bronze, a professor and chairman of the department of medicine at the University of Oklahoma College of Medicine, will meet with students, faculty and administrators in Kansas City, Kan., Wichita and Salina this week.
Bronze will also give a public talk at 4 p.m. Thursday in the KU School of Nursing auditorium.
Bronze has served as chairman of OU College of Medicine since 2000. His clinical work focuses mainly on infectious diseases and HIV, and he has done research in emerging pathogens and graduate medical education. He is the third finalist for medical school dean to visit the medical center campuses. A search committee formed in February of this year to help pick a replacement for former dean Barbara Atkinson, who retired in the summer of 2012
Copyright 2014 The Lawrence Journal-World. All rights reserved. This material may not be published, broadcast, rewritten or redistributed. We strive to uphold our values for every story published.