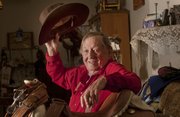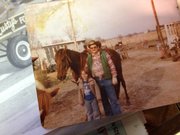 Local lore has it that a fellow known as Slick once rode a horse right up to the bar inside the original Johnny's Tavern.
Of the 60-year-old watering hole's many (often somewhat foggy) legends, this one is true. Laying claim to the shenanigan is Richard "Slick" Fraser, now 82 and still living in North Lawrence.
"And," Fraser adds with a laugh, "that wasn't the only bar I rode through."
It's been seven years or so since Sky King — the sorrel quarter horse who visited Johnny's — had to be put down, after spending the last of his 30 years retired on an Oskaloosa farm. Fraser hasn't been on a horse in probably 10 years, since he got rid of them and moved to his house on Pleasant Street, where his fancy tooled-leather Billy Cook roping saddle now resides on a stand next to his TV set.
These days, Fraser's horses live only in his photo albums, and his stories.
And there are a lot of both. Nary a place in Lawrence or the surrounding area hasn't seen "Slick" on a horse or driving a team of them.
"I have been around a little bit," he said. "I've had a lot of fun."
•••
Fraser's picture books overflow with black-and-white and faded-color snapshots. His horses. Friends' horses. His kids on horses. And of course, him on horses.
There's Fraser atop a raring saddlebred named Redwing. He taught that horse to do a trick on command, à la "Hi-yo, Silver, away!"
Astride a palomino bedecked in the nearly 100-pound silver-plated saddle he used in parades with the Shriners. In more modest getup for the Lawrence St. Patrick's Day Parade. Carrying the stars and stripes for a parade in Lecompton. With a group on a trail ride down by Mud Creek.
Driving an eight-horse hitch — same number as the Budweiser Clydesdales — around the McLouth Threshing Bee. (He and another horse owner put their animals together to pull off the not-as-easy-as-it-looks stunt, which Fraser described as "quite an experience.")
Looking on as two Shetland ponies (one 160 pounds, the other a mere 140) pull a full-size pickup truck. That was just a backyard experiment.
•••
Fraser's daughter Michelle went on dialysis as a child and underwent a kidney transplant as a teen in 1977. Her battle with kidney disease inspired Fraser to put some of his riding and wagon-driving toward a good cause.
He helped start the area's first Ride for Life, a horse and wagon train from Topeka to Lawrence that raised money for the National Kidney Foundation.
One year Fraser even let Lawrence radioman Arden Booth climb into his wagon for the last leg. Fraser said he contributed live commentary for KLWN-AM while leading his team of horses through town to Broken Arrow Park — without cussing even once.
•••
Fraser kept anywhere from a few to nearly a dozen horses at his home across the street from the Flamingo Club. (He got a buyout and moved after groundwater contamination from the nearby FMC Corp. was discovered.)
On Saturday mornings he'd ride along the river to Johnny's, tie his horse out front and duck into the bar for a cold one. One morning, though, he didn't stop there.
"The door was open," he said, "and somebody said, 'C'mon in, Slick!'"
He did, horse and all.
That's why Sky King was always one of his favorites.
"Calm, collected, easy to ride," Fraser said. "He'd go anywhere I'd put him."
•••
Sometime in the 1970s Gammons bar on 23rd Street was planning a western theme — promoting Lone Star beer — for its annual Country Club Week bash. Fraser said he agreed to loan the organizers some saddles, then some other cowboy gear for decoration.
"I said, 'The next damn thing, you'll be wanting me to ride a horse in there,'" he said.
Sure enough, they asked.
Fraser said, "No way."
They said they'd pay him.
Fraser said, "You ain't got enough money."
Eventually he gave in — but with two stipulations. He'd need people on either side of that horse to make sure nobody flicked a cigarette or made a move that would spook it. And he'd need a $200 donation to the Kidney Foundation.
Fraser's wife Shirley was sitting at the bar when he clopped in, grabbed a Lone Star beer and circled the room. As Fraser retells it, a man who'd sidled up next to her couldn't believe what he was seeing.
"Is that a damn horse coming in here?" the man asked Shirley, eyes wide. "She said, 'Yes — and that's my husband riding it.'"
•••
There's a lot of people who want to do things but just don't, or are afraid they can't, Fraser said. He said he tried not to live that way, especially when it came to horses.
"I don't hesitate," he said. "I just jump in."
"You don't know until you try it."
Copyright 2018 The Lawrence Journal-World. All rights reserved. This material may not be published, broadcast, rewritten or redistributed. We strive to uphold our values for every story published.