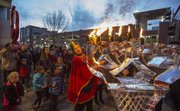 Downtown Lawrence was illuminated Sunday night by a larger-than-life ice menorah at Chabad of Lawrence's "Light Up One of 10,000 Public Menorahs Worldwide" event.
Donning neon, dreidel-shaped glasses, a crowd of almost 100 people ate latkes and gathered around the 7-foot ice sculpture at the Lawrence Arts Center in celebration of the fifth night of Hannukah.
Kansas University Chabad executive director Rabbi Zalman Tiechtel said the public celebration was true to the nature of the holiday.
"Hanukkah is a community holiday," Tiechtel said. "In the Jewish faith, we believe every person has a spark that can light up our community. Hanukkah teaches us every single one of us has a candle."
City Commissioner Mike Amyx served as the lamplighter, igniting the first flame on top of the frozen menorah. Tiechtel said this act was symbolic of the holiday's purpose.
"The lamplighter highlights those who lead, and Commissioner Amyx certain leads this community," Tiechtel said. "And the message of Hanukkah is everybody can make a difference; everybody can be a lamplighter."
For Ariella Unz, who moved from Israel to Lawrence six years ago with her husband and three sons, Hanukkah can be difficult being away from her family back home. But after singing traditional holiday songs and playing dreidel with her children at the event, Unz said she felt at home.
"It feels like a big family here tonight," Unz said. "It's teaching my kids the importance of family and community, and the meaning of Hanukkah."
Tiechtel said the sense of community Unz felt was the purpose of not only the event, but the message of the menorah and the holiday of Hanukkah.
"The warmth we're feeling tonight is that jug of oil that binds us all together," Tiechtel said. "That is the oil that lights this beautiful night in Lawrence."
And the warmth didn't just radiate from the candles –- for the first time in the seven years Tiechtel has put on an outdoor Hanukkah celebration in Lawrence, the weather cooperated. At a unseasonably warm 58 degrees, Tiechtel said, he considered the balmy night "another miracle of Hanukkah."
Copyright 2018 The Lawrence Journal-World. All rights reserved. This material may not be published, broadcast, rewritten or redistributed. We strive to uphold our values for every story published.