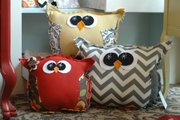 Soft, colorful felt combines with fun, graphic patterns in these lovable, googly-eyed owl throw pillows designed and handmade by Lawrence resident Kristin Campbell. The pillows come in different sizes, colors and patterns, and some (like the red one pictured) come with a felt flower pin you can detach and wear.
Where to get them: Made, 737 Massachusetts St.
What you'll pay: $35 to $50 apiece.
About the store: Jennifer Richards, who opened Made in 2011 with her husband Matt Richards, describes their store's theme as "modern handmade." Made sells original, handmade items by local, regional and national artists and crafters. Fresh, cheery takes on housewares, bath and body products, jewelry and even a few packaged snacks fill this small downtown boutique.
While you're there: Don't miss the conversational canvass wine bags, hand-printed tea towels, letterpress greeting cards and graphic onesies. Who could help but fawn over a baby in an acorn-emblazoned jumpsuit that says, "I will be mighty"?
Copyright 2018 The Lawrence Journal-World. All rights reserved. This material may not be published, broadcast, rewritten or redistributed. We strive to uphold our values for every story published.