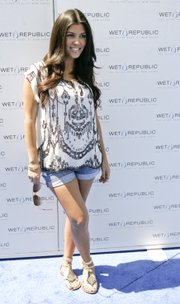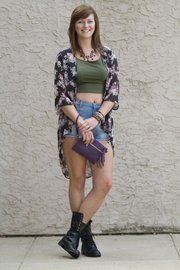 Get the look
Kourtney Kardashian-inspired outfit from Envy, 911 Massachusetts St.:
Lily and Laura bracelets: $11.98
Statement necklace: $14.98
High-waist cutoffs: $30.98
Kimono: $26.98
Crop top: $12.98
Combat boots: $33.98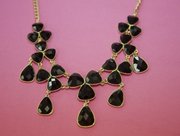 You don't have to spend thousands, or even hundreds, to keep up with the Kardashians when it comes to fashion.
Downtown Lawrence provides area fashionistas with plenty of stores to snag celebrity looks for less. Loose tops, busy prints and high waist shorts are among this season's most-popular styles.
Kourtney Kardashian recently sported a tribal print tunic, with high-waist jean shorts and embellished sandals.
The crew at Envy, 911 Massachusetts St., offered some tips on how to transition this summer style into a trendy fall fashion.
As the weather chills for fall, a short-sleeved tunic can be traded for a long-sleeved kimono, said Envy store manager Katie Glass. These Asian-inspired tops have a universal appeal, according to Fashionone.com.
"Kimono-style sleeves and necklines are showing up on dresses and cover-ups in all manner of styles," according to the website. "Whether the outfits are chic and colorful, hippie-worthy featuring oriental prints or graphically modern in stark black, Polyvore users are working the trend into looks for music festivals, gallery hopping and summer strolls."
Glass said she predicts kimonos will be the hottest item this fall.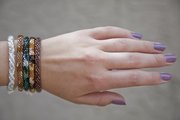 "The kimonos are the greatest transitioning piece for the fall," Glass said.
Like tunics, the loose fit of kimonos provides a sense of casual comfort.
To get Kardashian's look, Glass recommends going with a tribal or floral print. These prints give the comfy kimonos the trendy edge that fashionistas desire.
The kimono can be paired with a form-fitting T-shirt, tank top or crop top.
Envy sales associate Mackenzie Willis suggests customers go with what feels best on them.
"Go with what's comfortable," Willis said. "All of these trends are really cute, but if you don't feel good in it, you won't look good in it."
Glass selected a pair of cut-off, high-waist jean shorts and combat boots to complete the Kardashian look for the fall.
Combat boots are a great way to transform a summer outfit into a fall look, Willis said.
If you want to add accessories to Kardashian's look, Glass recommends a statement necklace and beaded Lily and Laura bracelets.
The fall fusion version of Kardashian's look is available at Envy for about $130.
Copyright 2018 The Lawrence Journal-World. All rights reserved. This material may not be published, broadcast, rewritten or redistributed. We strive to uphold our values for every story published.