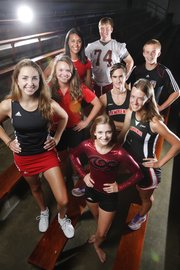 Jamboree tonight
Lawrence High's fall sports jamboree begins at 4:30 p.m. today at LHS, with volleyball and boys soccer scrimmages kicking off the festivities. The Lions will showcase all of their fall sports athletes at the event, which is free to the public.
And the Firebirds?
Look for the Free State fall sports preview next week, in Tuesday's Journal-World.
In the coming days and weeks, Lawrence High's athletes will find themselves done with preseason training and back to the world of live competition.
Some LHS programs are in search of new identities, while others plan to build on last season's successes. Here is a look at what the teams expect out of their seasons.
Cross country
This past summer, weeks before practices began, Lawrence cross country coach Brian Anderson got back to an old hobby: running.
At some offseason LHS workouts, Anderson laced up his sneakers and hit the road at the same time as the Lions.
Sure, it did the 10th-year coach some good, but his interests focused on how the fast-paced, on-foot tours of Lawrence benefited the student-athletes.
"Many of the runners," Anderson said, "have completed a good summer training program and made big improvements."
Both the boys and girls teams have experienced members of the program back this fall. For the girls, senior Laura Neilsen and juniors Leah Gabler, Riley Shook, Mallory McFall and Caitlin Lewis make up the team's veterans, while junior Dana Bequette, sophomores Kyleigh Severa and Shaye White and freshman Mikayla Herschell could make an impact as newcomers.
Back for the boys are seniors Tim Schraad, Eddie Wilson and Andy Freeman, juniors Keegan Matheis and Taylor Smith, and sophomore Nathan Pederson. Juniors Sam Stephens and Alex Mwithiga should contribute, too.
Lawrence's season opens Sept. 7 at Manhattan.
Football
A year removed from a 2012 season that included a seven-game winning streak and a first-round road playoff victory, few outside Lawrence football's inner circle expect the Lions to triumph so often this fall.
Coach Dirk Wedd said he and his players are aware of those opinions.
"I'm sure people assume we're going to struggle, losing as much as we lost," he said. "But our kids don't believe that."
To prove naysayers wrong, LHS will need both leadership and on-field production from its senior returning starters: linebacker Drew Green, lineman Alex Jones, linebacker Kieran Severa, defensive back Tucker Sutter and lineman Kyle Wittman.
"We have a senior class that will play with great effort and energy," Wedd said. "We need to overcome the inexperience early in the season."
The coach expects many underclassmen to help Lawrence do that, and named senior receiver and linebacker Zay Boldridge and senior linemen Jacob Nation and Matt Weiss among those who will lead the cause.
The Lions open their season Thursday, Sept. 5 at Olathe South.
Girls golf
It's not often one hears a rally cry on the golf course, but that could change soon. LHS girls golf coach Kristen Samp has a few inspiring words to describe her team: "This year we will be small, but mighty."
In fact, the Lions only have eight golfers representing the school this fall, making a lack of depth their biggest challenge.
In 2012, Samp's first season with the program, Lawrence finished third in the Sunflower League and sent two players to the Class 6A state tournament. Although senior Abby Schmidtberger is the lone returning Lion who played at state, Samp thinks she and fellow senior Campbell Drake have what it takes to lead the team's five other golfers who were involved with the program last season.
"The players know what I expect out of them," Samp said, "and they have all guaranteed me they will improve and set personal bests this year."
LHS opens its season Sept. 4 at the Olathe North Tournament.
Gymnastics
Not much looks the same this fall for Lawrence's gymnastics team.
Not only do the Lions have their third new head coach in three seasons, but some key gymnasts from last year's squad, which took sixth at the state meet, are no longer with the program.
Senior Allison Williams and sophomore Ashley Ammann both competed in the vault, bars, beam and floor events at state in 2012, and are the only gymnasts on the team who can claim to have done so.
First-year coach Brooke Kissinger will work with juniors Kiana Cummings, Elizabeth Harms and Heather Wisbey and freshmen Jordyn Leon, Rowan O'Daniels, Le-asa Woods and Chloe Wilson to help them complement the talents of Lawrence's two veterans.
Williams, Kissinger added, has shown everyone the ropes.
"She has awesome leadership," the coach said. "She's been around four years and knows what's going on."
The Lions open their season with a home quadrangular on Sept. 12.
Boys soccer
Entering his fourth year leading the boys soccer program at Lawrence, coach Mike Murphy has seen the Lions become accustomed to postseason victories, with back-to-back Class 6A state quarterfinal appearances.
Last season ended with a 1-0 road loss to Shawnee Mission East, and with that, LHS also lost a boatload of talent.
"There will be a steep learning curve for the team early in the 2013 season," Murphy said, "as most players are new to the varsity level. But we should see a substantial amount of growth, and hopefully peak going in to the postseason."
Such a run would mirror last season, when the Lions won seven of their final 10 games. Still, the team on the field will look quite different. Seniors Connor Henrichs and Parker Davies are returning starters, but they will move from defense to the midfield. Senior forward Ian Gabel returns, too, and Murphy listed juniors Jared Roush, Ellis Springe and Sam Stevens among his team's impact newcomers.
Lawrence begins its season at 6:15 p.m. Friday at Manhattan.
Girls tennis
Lawrence's girls tennis team only went 5-9-2 in duals last season, but coach Chris Marshall remains optimistic about what the Lions can accomplish in the coming weeks.
The third-year coach's starting lineup includes four key returning players: senior Whitney Simons and junior Kendall Pritchard, in singles, and senior doubles partners Brooke Braman and Zoe Schneider.
The Lions also have three new members of the program — juniors Anna and Yelena Birt and freshman Natalie Cote — who could become a part of the varsity rotation.
"We feel good about our depth," Marshall said. "We have a lot of girls with good tennis skills, and players four through 14 on our ladder are very equal in skill sets, so it will interesting to see who is playing the best to help us out at the varsity level."
The season begins Sept. 5, when the Lions travel to a Leavenworth quadrangular.
Volleyball
Lawrence's volleyball team showed much potential last fall, finishing 8-3 in Sunflower League games. But the Lions felt disappointed in 2012's outcome by the season's end, after going 4-9 in the final two weeks and finishing 17-18 overall.
As seventh-year coach Stephanie Magnuson and her players prepare for this season, hoping for no regrets this time around, they figure a handful of returning players will do all they can to keep the Lions consistent. Though senior Caitlin Broadwell has been sidelined with an ailment, Magnuson said she is eager to return. Broadwell and fellow senior Sami Buffalomeat give LHS two experienced outside hitters, while sophomore Caroline Dykes returns in the middle, and seniors Jessica Lemus and Marly Carmona give Lawrence some options at libero. The Lions will call upon junior Marlee Bird as their new setter.
"We have a core group of returners combined with equally talented newcomers that should provide us with a lot of depth as well as experience," Magnuson said.
LHS begins its season at 5:30 p.m. Tuesday, with a home dual against Blue Valley Northwest.
Copyright 2018 The Lawrence Journal-World. All rights reserved. This material may not be published, broadcast, rewritten or redistributed. We strive to uphold our values for every story published.