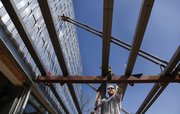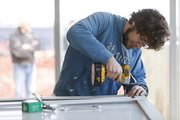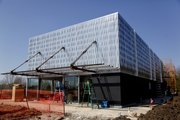 Another year at the Kansas University School of Architecture, and another Studio 804 building designed and built by graduate architecture students.
"That's 18, 19..." said Dan Rockhill, architecture professor, voice trailing off as he checked his memory.
The projects have made a name for the architecture school both at KU and across the country, giving graduate students real-world experience before they hit the job market.
"We've sort of become the poster child for this worldwide," Rockhill said.
This year, Studio 804 students designed and built the EcoHawks Research Facility on KU's West Campus, which will be used by the KU School of Engineering in its pursuit of sustainable energy, such as hybrid batteries, biofuels and wind energy.
About two dozen students spent their days — "from sunup to sundown," Rockhill will tell you — building the facility. During the first semester of the project, students designed the building. Beginning in December, they broke ground.
Seeing it actually built is the fun part, said Kelli Hawkins, a student from St. Louis.
"Actually seeing something you designed come to life," she said. "What you design on paper, someone is actually going to build."
The building will feature a wide variety of eco-friendly features, and be one of six LEED-certified buildings created in Studio 804. "Even the content of the concrete is scrutinized," Rockhill said. The structure — which looks like a new-age car dealership — is also built using mostly recycled materials.
It's been a long haul for the students, but they've formed close friendships in their year together building, said student Hannah Hindman, also from St. Louis. They've also learned tips and tools for working with each other, even with vastly different views on how things should be designed and built.
"Architecture is a collaborative field, and you have to work with other people," she said.
Both Hawkins and Hindman said they're busy applying for jobs, but feel confident their experience in Studio 804 will help them get started in their careers.
"When you say we're in Studio 804, they (employers) recognize the name," Hawkins said.
Copyright 2018 The Lawrence Journal-World. All rights reserved. This material may not be published, broadcast, rewritten or redistributed. We strive to uphold our values for every story published.