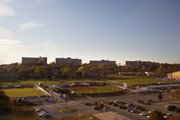 A landmark on Daisy Hill since 1965, McCollum Hall has a date with demolition in the near future.
In October 2012 the Kansas Board of Regents announced a plan to raze the 10-story McCollum residence hall and replace it with two smaller halls with lower resident capacity.
Construction on the $48.7 million dollar project is slated to begin in January. The design process is currently underway and should finish up in November. The new halls are scheduled to open for occupants by the 2015 fall semester.
The two five-story buildings that will replace McCollum will each old up to 350 students. Together, they will hold about 200 fewer students than McCollum's 910-resident capacity.
The new residence halls will come with modern bells and whistles missing from McCollum's 1960s design, including spaces for collaboration and a "smart classroom."
Students will be able to live in McCollum up until the opening of the new halls. From there, McCollum's furniture will be removed, its metal parts recycled, its concrete and masonry crushed and turned into gravel, and the site itself will become a parking lot.
Once McCollum is razed, the new buildings will form a quadrangle with Hashinger and and Lewis halls on the western edge of Daisy Hill.
McCollum's replacements will be the first new residence halls built since Oliver Residence Hall was constructed in 1967. The $48.7 million cost of the new halls will be funded initially by bond sales and paid off ultimately through housing fees.
Copyright 2018 The Lawrence Journal-World. All rights reserved. This material may not be published, broadcast, rewritten or redistributed. We strive to uphold our values for every story published.