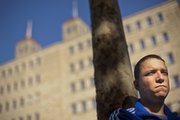 Kansas University has for years worked to foster a welcome environment for military veterans, and was recently recognized for its efforts.
The Military Times has named KU the ninth best school in the nation for veterans in 2013, while ranking the School of Business No. 14.
In the wake of thousands of veterans returning from the wars in Iraq and Afghanistan to attend college using benefits from the Post-9/11 GI Bill, KU has increased the number of programs it offers for veterans and has aimed to centralize its operations for serving student vets. About 400 students at KU are using Post-9/11 GI Bill benefits, though there are an estimated 200 more veterans attending classes at the university, as well as 75-100 active-duty personnel.
The first person an incoming student veteran is likely to meet is Betty Colbert, the veterans certifying official at KU. She helps them register for classes, file for financial aid and make sure they get their GI Bill benefits.
"She is Saint Betty to the vets on campus," said Greig Freix, director of the Master of Science of Business in Supply Chain Management & Logistics program at the KU School of Business, and an Air Force veteran.
Lianne Larson, a third-year pharmacy student and president of the KU Collegiate Veterans Association for 2013-14, agrees.
"Without (Colbert), I would have been totally lost, in terms of just the amount of paperwork that needs to be done to receive your benefits," said Larson, who served with the Air Force in Afghanistan from 2007-08. "Things can be very confusing. She's really good at explaining what's happening: 'This is what you need to do to get your benefits; here's how much you'll get for tuition, housing allowance.'"
The Office of Veterans Services is the centralized location that helps students determine their eligibility for benefits and serves as a resource for vets on campus. A veterans lounge in Burge Union gives student veterans a space to study and congregate, and has computers with video-calling services available to communicate with people overseas. A veterans student center is also in the works.
"Student veterans are older, have more life experiences, may have recently returned from combat — those are all advantages. We're trying to make sure they're prepared for immediate advantage into the campus lifestyle because, for a lot of them, they're going from highly structured to almost no structure," said Randy Masten, assistant director of Office of Graduate Military Programs.
It's not just KU students that need to adjust to the rhythms of university life. Approximately 230 faculty and staff members at KU are military veterans.
Naval reservist Bill Steele, an assistant for KU Graduate Military Programs, is using Post-9/11 GI Bill benefits to pursue a PhD in history. He was forced to drop a class recently after being deployed to Afghanistan in the middle of a semester. "It was very stressful," he said.
KU made it less so with its expedited, one-stop withdrawal service for veterans in such situations. "They have your back when you're facing a life-changing event," Steele said.
The KU Collegiate Veterans Association also advocates for vets on campus. The organization recently tried to get a measure passed in the Kansas Legislature to help defray the costs for out-of-state student veterans to attend KU. The Post-9/11 GI Bill only offers tuition up to the in-state rate, which, association members say, prevents many veterans from attending KU, since many other states offer to make up the difference. However, the legislation, which was introduced by two Lawrence Democrats, has not passed; opponents claimed it will cost the state too much money in lost tuition.
The university does participate in the U.S. Veterans Affairs Department's Yellow Ribbon Program, in which veteran students can apply to receive $6,000 per academic year in financial assistance to help student veterans from out of state attend KU. The university also recently awarded two wounded warrior scholarships worth $10,000 each.
In the Military Times survey, which looked at the 2011-12 school year, KU got positive marks for taking part in the Yellow Ribbon Program, accepting academic credit for military training, relaxing residency requirements for service members, having a centralized veterans affairs office and participating in the Veterans Upward Bound program. It was downgraded because not all programs at the university are at or below the tuition assistance cap of $250 per credit hour.
Copyright 2018 The Lawrence Journal-World. All rights reserved. This material may not be published, broadcast, rewritten or redistributed. We strive to uphold our values for every story published.