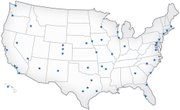 Any Jayhawks hitting the road on vacation may want to pack their KU gear. Almost anywhere you go in the U.S., there is a Kansas Alumni Association event not far away.
This summer featured more than 100 events over a 90-day period, including a private showing of James Naismith memorabilia at the University Club of Denver. At least 8,000 people attended last year's alumni events, organizers said, and more gatherings will be hosted by local chapters across the country as football-watching parties start up in the fall.
This summer's events started with Kansas football preview parties in Liberal and Topeka with coach Charlie Weis, followed by golf tournaments, baseball games and parties on land and sea all summer in Jayhawk strongholds across the country.
"We're very eager to see all of our Jayhawk friends and alumni," said Jennifer Sanner, a spokeswoman for the alumni association. Sanner and other alumni association staff spend much of the summer meeting KU graduates from coast to coast.
"We're out and about even more than usual this time of year," she said.
The main hotbeds of Jayhawk activity outside of Kansas are in Chicago, Dallas, Houston, Washington, D.C., California and St. Louis, Sanner said. And that's where a great many of the "'Hawk Days of Summer" events were scheduled. But not all of them.
The Great Plains Chapter Golf Tournament teed off at Garden City's Southwind Country Club, and the Albuquerque Isotopes, a New Mexico minor league baseball club, hosted a KU Night at Isotopes Park on Aug. 21. Elsewhere, alumni boat cruises shipped out from New York and Milwaukee.
There are more than 40 official alumni association chapters across the country — including Hawaii. To see where and when the next alumni event is happening, visit the alumni association's website at kualumni.org.
Copyright 2018 The Lawrence Journal-World. All rights reserved. This material may not be published, broadcast, rewritten or redistributed. We strive to uphold our values for every story published.