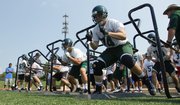 When Free State High football coach Bob Lisher makes his way from station to station at practices, he sees plenty of proven seniors. They're the kind of players that carry name recognition in the Sunflower League and helped FSHS earn a No. 4 preseason ranking in Class 6A from Kpreps.com.
For all the talent the Firebirds have coming back this fall, though, they can't avoid plugging in less experienced players all over the field.
Seniors such as quarterback and safety Joe Dineen, linebackers Stan Skwarlo, Keith Loneker and Blake Winslow, linemen Reid Buckingham and Tyler Sampson and tight end Zach Bickling will only take Free State so far.
Some of the new potential starters Lisher and his staff will call upon played numerous snaps as back-ups in 2012, but senior receiver and corner back Khadre Lane and junior running back and linebacker Carson Bowen are the exception, rather than the rule. Senior linebacker Lucas Werner, junior linemen Shane Hofer, Scott Frantz and Josiah LeBrun, junior receivers and defensive backs Andrew Keating and Joel Spain and sophomore corner Bryce Torneden — and others — will be expected to contribute right away.
Said Dineen: "They're gonna have to play. They're gonna have to step up."
It's up to Lisher, his assistants and the veterans to get the most out of them.
"We've gotta build confidence in a lot of those young guys who didn't see a lot of time last year," Lisher said. "Luckily, they have some ability. It's not like you're putting somebody out there that's not ready. They're ready. Some of them just have a little less experience than others."
Hofer, a right tackle and defensive end, said the young players know the veterans demand they perform at a high level, because the team plans to contend for a state championship. Chemistry and intangibles, Hofer added, aren't worrisome, but the new additions realize it will be difficult to replace members of last year's senior class.
"It's pretty nerve-wracking, because we haven't started a full game of varsity yet," Hofer said. "I'm sure once we get started, we'll do fine, and everything will go to plan."'
The Firebirds have long suspected Frantz would play a key part this season, but his workload became even more essential when senior left tackle Fred Wyatt tore the anterior cruciate ligament in his left knee this summer.
"I've got to move to the left side," Frantz said, "and protect Joe's blind side. That's a challenge in itself. I've definitely got to step up and play good."
An important part of this whole process, senior linebacker and receiver Winslow said, has been the veterans accepting the less experienced players and respecting their abilities.
"It does take a lot of trust," Winslow said. "Guys, especially like Shane and Scott, they have our trust, because they did really well at camp this summer."
The same is true, Winslow added, of players such as receivers Keating and Spain and cornerback Torneden, though the new starters on defense might have a more burdensome transition.
"There's so many checks in the secondary and so many different plays that we can run," Winslow said of the FSHS defense. "They'll definitely have to pay attention in practice and get a lot of reps."
On both sides, the seniors, Frantz said, let their teammates know when they did something wrong and how they can go about fixing their mistakes. Lisher said that kind of leadership began as early as last winter, with offseason activities.
"(The seniors) set a high standard for working and how it's supposed to be done here," Lisher said, "and that's carried over into our practices from those guys, and hopefully that carries over into our games."
Because of the young players' skills, Winslow anticipates the Firebirds' new lineup will evolve and mature.
"Everyone (Lisher) puts out there has talent. They've just got to learn the plays," Winslow said. "That'll come over time."
Copyright 2018 The Lawrence Journal-World. All rights reserved. This material may not be published, broadcast, rewritten or redistributed. We strive to uphold our values for every story published.