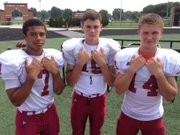 At Lawrence High football practices, senior Tucker Sutter is the team's starting quarterback. For that matter, so are junior Nyle Anderson and sophomore Alan Clothier.
The Lions' No. 2 QB? Actually, Sutter, Anderson and Clothier fill that role, too.
LHS coach Dirk Wedd and his staff have the team's three quarterbacks taking the same amount of snaps with first-teamers and second-teamers as LHS continues to search for an answer at one of its most vital positions.
"To be perfectly honest, I don't know if we'll know anything by Monday morning (after a week of practices and a scrimmage this afternoon)," Wedd said. "I wish someone would jump out and take the job, but right now three of 'em are doing a great job, and they all have strengths and weaknesses, and we've just got to figure out which one fits best into this football team."
Anderson, a transfer from Free State, identified throwing as his greatest strength, while noting Sutter's running and Clothier's aggressive approach among their most enviable attributes.
"They both can make plays when nothing's really open," Anderson added.
Even though the coaches haven't yet identified a top QB, the three players seem to be handling the situation well.
"It's really nice," Anderson said, "that all of us get even reps, and we all help each other out there and give each other feedback."
Sutter agreed, and said, though each player wants to earn the starting spot, the competition has proven to be far from heated.
"We hope for the best out of each other," Sutter said, adding that taking reps at QB and receiver has tired him at times. "But it's a lot of fun."
As the youngest member of the trio, Clothier has found himself leaning on Sutter and Anderson for guidance at times. The sophomore said their discussions have calmed him down when he has felt overly anxious about wanting to make perfect throws down the field.
"They're teaching me about leadership," Clothier said, "and helping me a lot in the huddle."
Wedd hopes to have a solution as soon as possible. Still, he said even when the Lions think they have their answer, it could change at any point — even after the first game or the first quarter of the first game.
"You don't know how young kids are gonna react if they've never been under the lights on Friday night," the coach said. "Some handle it, and some need to grow into it. That's fun. That's why you coach."
Sutter at least has starting varsity experience on defense, at strong safety, and he thinks that could give him an edge. However, he knows there is much more to the decision.
"It'll be tough for the coaches," Sutter predicted.
Added Anderson: "We're all three of us just pushing each other to the limit, to see who does it."
Battles at other positions
Through five days of practice, Wedd indicated very few players have solidified starting positions.
"The quarterback is just one issue," the coach said. "There's a lot of issues out there. The quarterback gets all the pub, but we have other competitions going on that are just as keen. For the outside observer, of course, they want to know who's gonna replace Brad (Strauss, 2013 LHS graduate, at QB)."
Wedd said the coaches "think the world" of senior running back Drew Green, who will be a starter. Junior Dearan Cooper, the coach added, has played well, and sophomore JD Woods will get carries, too.
Among Lawrence's four receiver spots, coaches know what they have in starting senior Kieran Severa, and Wedd said senior Zay Boldridge has looked good so far.
"We're searching," Wedd said. "Every day we walk in, and we evaluate, and new names pop up, and other names disappoint you."
More clarity exists on the offensive line than other spots. Seniors Alex Jones and Kyle Wittman are returning starters, and Wedd pointed to Matt Weiss as another promising player.
Jones said underclassmen have given the unit a boost, too, as they try to keep up with the seniors.
"They understand that it's going to be hard," Jones said, "and they're trying their hardest to up their intensity."
Copyright 2018 The Lawrence Journal-World. All rights reserved. This material may not be published, broadcast, rewritten or redistributed. We strive to uphold our values for every story published.