Name: Kristina Armstrong
Age: 19
Relationship status: In a relationship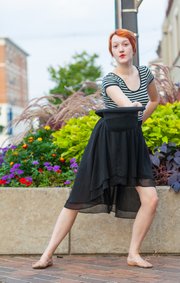 Hometown: Manhattan
Time in Lawrence: A little over a year
Occupation: I'm a server and barista at Global Café and I mime. I've been performing as a mime for five years.
Dream job: I think I'd prefer to be a stage actress because I've done films before and I'm not a huge fan of them.
What were you doing when scouted: Miming during the (Sandbar) Block Party.
Describe your style: Well, when I'm miming I go for something dramatic to catch people's eyes, and I'm pretty much that way in real life. But also, I like vintage things a lot. I have a lot of 'grandma dresses' that I've altered!
Fashion trends you love: I don't really follow trends. I guess it's just random people doing their own thing.
Fashion trends you hate: 'Not trying' is a trend that I don't like. It's like when you roll out of bed and then you're in class. That's not my favorite but to each their own.
Fashion influences: I go to thrift stores a lot so it's whatever strikes my fancy there. I'm also really into classic looks like Audrey Hepburn with a little vintage style now and then.
What would you like to see more of in Lawrence: I don't know. I would say performing artists but there are a lot of them. I guess things besides 'musical' performing artists.
Less of? I can't think or anything. I like pretty much everything about Lawrence.
Tattoos or piercings: Just earrings. They don't even count! I wish I was so edgy.
Whom do people say you look like? Hmm. What's the name of the name of the girl from the Titanic? Kate Winslet! And there's also this 18th century art model named Elizabeth Siddal who is basically my doppelganger.
What type of music do you unwind to? Lots of things: I like 'folky' things but I also like a few electronic things like LCD Soundsystem.
Tell us a secret: When I'm miming, sometimes I blink when people turn their backs to me.
Copyright 2018 The Lawrence Journal-World. All rights reserved. This material may not be published, broadcast, rewritten or redistributed. We strive to uphold our values for every story published.