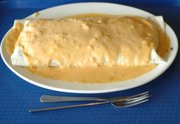 This burrito isn't billed as being fancy, fresh or frilly, just big. It's soft, melty, a full 1 foot long and comes splayed across — all the way across — an oval melamine plate on a plastic tray. Choose from beef, beans or both for filling (chicken and pork cost extra) and enchilada sauce, cheese sauce, extra cheese or chili for topping.
The family owned and operated Border Bandido has been in business more than 40 years, the kind of run that often draws a cult following. A few online reviewers ream the place — blasting microwave use and cheese sauce that doesn't seem like real cheese — but they're outnumbered by emphatic five-star reviews. "I don't know if you can truly call yourself a Lawrencian before you've eaten your first Super Burrito," one Yelp reviewer asserts, with another chiming in that if he were ever on death row, he'd want one for his last meal, with extra sauce and a side of chips.
Where to get it: Border Bandido, 1528 W. 23rd St.
What you'll pay: $8.70, or $7.50 if you choose enchilada sauce instead of cheese or chili.
Try it with: A to-go box. Note that you'll have to eat at least a third of this burrito before it will fit in said to-go box.
Also on the menu: Smaller burritos, enchiladas, taco salad, tostadas and Border Bandido's famous taco bar.
Copyright 2018 The Lawrence Journal-World. All rights reserved. This material may not be published, broadcast, rewritten or redistributed. We strive to uphold our values for every story published.