Celebration of the Nineteenth Amendment
When: 1:30 to 3:30 p.m.
Where: South Park Gazebo, 1198 Massachusetts St.
Why: to celebrate the anniversary of the Nineteenth Amendment, ratified on Aug. 18, 1920, which gave women the right to vote.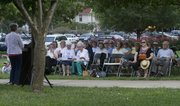 Ninety-three years ago, women, who had struggled for decades for the full rights and responsibilities of citizenship, won the right to vote when the Nineteenth Amendment to the U.S. Constitution was ratified.
To commemorate this, and to draw attention to contemporary voting-rights issues, the League of Women Voters of Lawrence-Douglas County, along with the Kaw Valley Older Women's League, the Kansas Coalition for Peace and Justice and the Douglas County National Organization for Women, will hold a celebration from 1:30 to 3:30 p.m. Saturday at the South Park gazebo.
The league threw a similar get-together when the amendment reached its 75th anniversary in 1995. Though 93 years may seem like an unusual time to bring back a public celebration, Margaret Arnold, league membership chair, said the time was right considering the current controversy with voter registration in Kansas.
"I'm hoping it will serve as a good reminder and I'm hoping, too, that it will call peoples' attention to the importance of voting and the importance of trying to straighten out registration problems," Arnold said.
Arnold is referring to the approximately 14,000-15,000 voter registration applications that are in limbo because election officials have not yet received acceptable documents to fulfill the Kansas proof-of-citizenship requirement, which took effect in January.
Without proof, ballots from these voters will not be legally valid.
"We're concerned about whether some of the people who try to register can't vote," Arnold said. "We wanted to draw attention to it."
The league will register people to vote Saturday. Arnold said members would also try to help people assemble the appropriate documents to fulfill their proof-of-citizenship requirements.
Much of the event will focus on suffragettes, those who sought the right to vote through organized protest. Volunteers from the Lawrence Civic Choir will lead the singing of suffragette songs, and there will be brief speeches by state Sen. Marci Francisco, D-Lawrence, League Co-President David Burress and Leslie Soden, media chair for the Douglas County National Organization for Women.
Organizers plan a brief skit of the Seneca Falls Convention, the first American women's rights convention, held in 1848. One participant will dress as Elizabeth Cady Stanton, a leading figure in the early women's rights movement, and read excerpts from the "Declaration of Sentiments," which was issued by the Seneca Falls Convention and demanded that women be granted all rights and privileges afforded to men.
"The event itself should be colorful," Anrold said.
Copyright 2018 The Lawrence Journal-World. All rights reserved. This material may not be published, broadcast, rewritten or redistributed. We strive to uphold our values for every story published.