About the series
This is one in a series of stories about survivors of cancer provided by Lawrence Memorial Hospital's Endowment Association. These survivors' stories and photographs hang in the hallway leading to LMH's Oncology Center. These stories offer hope to patients being cared for at LMH Oncology and their families.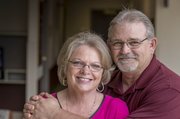 "At this point in time, it's kind of a long story — a long, drawn out story," said Mary Higgins, who was first diagnosed with non-Hodgkin's lymphoma in 1992. But you would never know that this woman with an upbeat personality and a warm smile has faced a cancer diagnosis about every four to five years since then.
At the time of her diagnosis, Higgins was a mother of two young children and a working mom with a career at Hallmark Cards. It wasn't until she noticed a knot in her groin area that her journey battling non-Hodgkin's lymphoma began.
"When I was first diagnosed with cancer, the first thing that came into my head was all the people that have died from it," Higgins said. As she recalled her initial meeting with Dr. Matthew Stein in 1992, she lovingly looks at her husband, Mike, who has been her support system throughout her diagnosis and treatment. "I remember when we first went to see Dr. Stein, I didn't want to even get out of the car," she said. However, after that initial meeting, things for Higgins changed. She fondly recalled something that Stein told her that has stuck with her for nearly 21 years. "He said, 'I've got to fix this (she points to her head), before I can fix what is on the inside.' And at that point, I realized I had to stop thinking I was going to die and leave my kids."
After her diagnosis, there were a lot of things that carried Higgins through the hard times ahead. With two young sons at the time, Higgins said her first goal was to see them get out of high school. One memory in particular that kept coming up was that of a family friend who was 10 years old and had just finished three years of chemotherapy for children's leukemia. "All these things would come up and I thought, he's 10 years old and he did this, and he had worse things to go through then I did," she said. "If a 10-year-old could do it, surely I could." And she did.
After several months of bone marrow checks, ultrasounds, CT scans, PET scans and even a second opinion at the Nebraska Medical Center, Higgins started treatment in December 1992. Their plan was to see if more knots appeared or if there were any significant changes. She then began a course of 11 chemotherapy treatments during which she lost her hair and had to wear a wig for a period of time.
But that didn't stop Higgins, and things were going well in her life. She was healthy until September 1997, when she noticed red blisters on her scalp. She went in for a biopsy and the blisters had non-Hodgkin's cells in them. In October of that year she traveled to a nearby hospital and had 15 radiation treatments. "At that time, LMH didn't have radiation, otherwise, we would have stayed here," she said.
Mike started researching treatment options for non-Hodgkin's lymphoma. "I remembered Dr. Stein saying that Mary's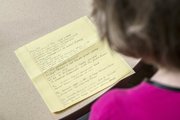 cancer was B28, so I decided to look on the Internet and research that particular kind of cancer," Mike said. His results yielded an idea that they took to and collaborated on with Stein. "I noticed that people had used this new drug called Rituxan and I thought at the very least, I should ask Dr. Stein about it," Mike said.
At the time, Rituxan had just received FDA approval. Stein was receptive to the idea of Higgins taking Rituxan. After researching it and finding out if her body would be able to handle it, they decided to proceed with that course of treatment.
Higgins then started four rounds of treatment with the Rituxan. She went to LMH every Friday for a treatment and then was back at work on Monday. "With the Rituxan, you didn't lose your hair, you don't get tired, and you don't get nauseous. It's a miracle," Higgins said, laughing.
"We are very thankful for Dr. Stein," Mike said. "He and his staff are unbelievable."
During all of her treatments, Higgins relied on her support system that included her husband, her parents and her close-knit group of friends from Hallmark. "You have to have a good support group," Higgins said. "Your family. Your friends. Everyone was just remarkable."
Higgins enjoys talking to cancer survivors. "When I hear someone has been diagnosed, I don't hesitate to give them a call," she said. "I enjoy talking to people and letting them know I am a survivor and they can do it. Sometimes it is just one little thing that someone says that can change your way of thinking that day."
These days you can find Higgins still in the halls of Lawrence Memorial Hospital, not as a patient, but as a volunteer. After retiring from a 40-year career at Hallmark Cards, Higgins now volunteers at Mario's Closet at LMH once at week and the LMH South Breast Center. "When I needed a wig and different things during my treatment, there wasn't any place to buy one," she said, talking about her volunteer time at Mario's Closet. "You would have to buy one out of the back of a magazine."
Higgins believes there is a real need for a place like Mario's Closet for cancer patients and she is glad that LMH is able to provide that resource.
When she isn't volunteering, Higgins is involved with Relay For Life, spending time with her seven grandchildren and getting together with her family. She still gets checkups with Stein every six months. "It's not a curable disease, but it is treatable," Higgins said.
Copyright 2018 The Lawrence Journal-World. All rights reserved. This material may not be published, broadcast, rewritten or redistributed. We strive to uphold our values for every story published.