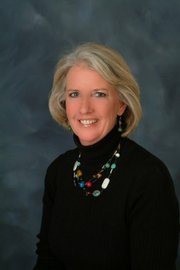 A former Lawrence mayor will begin overseeing the day-to-day operations of the Lawrence Chamber of Commerce.
Bonnie Lowe, a former Lawrence banker and city commissioner, has been hired as the chamber's new chief operating officer.
Lowe will report to chamber CEO Greg Williams, who will continue to oversee the overall chamber organization and, in particular, its economic development efforts.
Lowe, who served on the city commission in the late 1990s, will be responsible for overseeing a variety of chamber functions related to finances, membership and other day-to-day operations.
"She is a fantastic business professional with years of service to our community," Williams said. "In this role at the chamber, she will enhance the services our members expect and will have her finger on the pulse of the business community."
Lowe spent 19 years in various roles in the banking industry in Lawrence. Most recently Lowe worked for the U.S. Attorney's office as a civil/financial investigator. She'll begin with the chamber on Sept. 5.
Copyright 2018 The Lawrence Journal-World. All rights reserved. This material may not be published, broadcast, rewritten or redistributed. We strive to uphold our values for every story published.