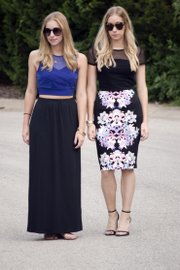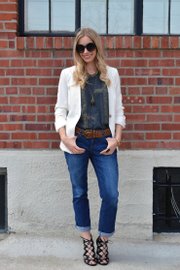 Trends come and go every season, but there are always some that stand out more than others.
Comeback trends specifically stand out to me because they are reborn with a slight update. This season I've been seeing hints of the '90s showing up in popular retailers and street style. People seem to either love or hate comeback trends but I, of course, like to try out trends whether they are the most popular or not.
Cropped tops
If you've been out shopping within the last year, you're probably seen the cropped top.
These tops come in an array of styles from oversized cropped graphic tees to fitted cropped tank tops. Cropped tops can be easily incorporated into your wardrobe with some simple rules.
If you own or plan to buy cropped tops, high-waisted bottoms are your best friend. High-waisted shorts, skirts and jeans will complement your cropped tops perfectly.
I prefer wearing my maxi skirts a little higher up on my waistline with a cropped top because it's more of a casual, festival-style look. This look would work well for a concert or any outdoor activity to finish out the summer.
The secret to wearing cropped tops is to show very little of your midriff, and high-waisted bottoms will help you with that. Although I can't get myself to support all of the styles from the '90s, this one I can definitely approve.
Overalls
Yes, overalls have come back around in a big way this season. But the style has been updated with different washes, overall denim dresses, denim overall jumpsuits, wide-leg overalls and short overalls.
Urban Outfitters has several styles of overalls, and even high-end designers have created the trend with contemporary updates.
Like them or not, they are everywhere this season. I've even seen faux leather overalls that can be more of a dressed-up look.
It's been several years since I've worn overalls. That being said, I'm a little hesitant to wear them again. I do love the updated look of today's overalls, but it's still something I'll have to warm up to.
Graphics
Graphics from the '90s have made a comeback in new and tasteful styles.
I recently started to love graphic tees, especially when they are styled right. Pairing graphics with polished pieces like pencil skirts and blazers get me excited. It's a pairing where fun and sophisticated happily exist.
I came across a look while browsing fashion blogs last week that I just cannot get out of my head and that I plan to re-create. It was a faux leather skirt with a graphic tee tucked in. I think it's a creative way to look edgy yet put together.
A graphic tee can also be easily dressed up with a blazer. Try throwing on some jeans, heels and a nice structured blazer to add a little spice to your refined look. I think it's safe to say that I stand by the graphic comeback.
Copyright 2018 The Lawrence Journal-World. All rights reserved. This material may not be published, broadcast, rewritten or redistributed. We strive to uphold our values for every story published.