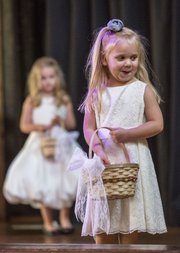 More than 100 brides, along with friends, parents and fiancés, gathered under twinkling lights at Abe & Jake's Landing on Saturday, roaming from booth to booth to collect ideas for their wedding days.
After sampling some of the food, including pineapple shrimp, pulled pork, cheesy potatoes, bacon wrapped pork tenderloin and cream puffs, the crowd milled about, drinks in hand, looking at wedding gowns, tuxedos, flowers, dishware, photographers and DJs.
The Bridal Event, a free wedding showcase, featured 26 vendors displaying their merchandise. Brides had the chance to win prizes such as a veil, china, a $300 video scrapbook and a food tasting.
The event was sponsored by J. Lynn Bridal, Abe & Jake's, Celebrity China and Lawrence Brides magazine, which is published by The World Company, which also publishes the Lawrence Journal-World.
"We booked a DJ and a photo booth, and we're looking at bridesmaids dresses," said Paige Ward, a soon-to-be-bride who attended the event.
Ward and her fiancé, Philip Jones, plan to be married in December 2014 at Danforth Chapel on the Kansas University campus. The two received their undergraduate degrees from KU in 2009, and though they now live in Kansas City, Kan., Ward said it was important to come back to Lawrence for the wedding.
"It was only fitting," she said.
The couple has chosen a date, the venue, a DJ and florist. At The Bridal Event on Saturday, Ward was gathering ideas for all the rest.
Surrounded by a few of her bridesmaids, she watched a fashion show for inspiration for their dresses.
Also watching one of the two fashion shows for the day was Molly Wright. Though she is not a to-be-bride, Wright and a friend attended the event Saturday to see the displays, grab something to eat and drink and watch as dresses were modeled on stage.
"It's a nice, calm environment," Wright said.
Copyright 2018 The Lawrence Journal-World. All rights reserved. This material may not be published, broadcast, rewritten or redistributed. We strive to uphold our values for every story published.