As Principal Pat Newton walked from the older classrooms at St. John Catholic School to the just-finished science lab on Thursday, it was hard for her to talk about the expansion of the nearly 60-year-old building without tearing up.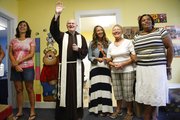 Newton has spent her entire professional career at the school and has watched the number of students outgrow the number of classrooms. The new $2.25 million addition to the southernmost part of St. John Catholic School, 1208 Kentucky St., includes classrooms, a community room and a library that will help meet the increasing space needs of parishioners and students.
"This is the first time every teacher has their own room and space," Newton said. "We wanted a library that would really house the books and a large conference table in it so councils will have a nice place to meet."
The expansion also will enable the addition of eighth grade this fall. The school made the commitment to the expansion after the Lawrence school district voted in 2010 to switch from junior highs to middle schools and move ninth graders to high schools. That made it easier for St. John to transition from an elementary school to a K-8 school.
Director of Development Samantha Romero said the school and church community began the capital campaign in 2010 by hosting fundraisers and pledging money for the project. The building addition will be fully paid for by 2014.
"The expansion was 100 percent funded by the parish," Romero said. "People who had kids (who came here) years ago, people who don't even have kids, contributed."
On Thursday, Father Jeff Ernst and Father Mike Scully, the co-pastors at St. John Catholic Church, walked from classroom to classroom, readying the old and new parts of the building for the school year, which will begin Monday.
There will be an open house for the community to see the school after the 10:30 a.m. Mass Sunday morning, at about 11:45 a.m.
"We just feel so proud that this parish with a small school was able to do this and do it well," Romero said.
Copyright 2018 The Lawrence Journal-World. All rights reserved. This material may not be published, broadcast, rewritten or redistributed. We strive to uphold our values for every story published.