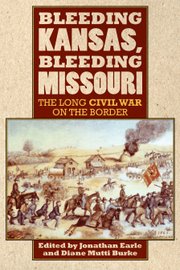 Book signing
Copies of "Bleeding Kansas, Bleeding Missouri: The Long Civil War on the Border" will be for sale at an author talk and book-signing planned for 7 p.m. Tuesday at the Carnegie Building, 200 W. Ninth St.
The book also will be available at the Raven and the KU Bookstore, and online at www.kansaspress.ku.edu and amazon.com.
For Jonathan Earle and Diane Mutti Burke, even the brainstorming process for their new book required staying conscious of "the border" where the Civil War began.
An initial gathering of contributors happened on the Kansas University campus. The next was strategically scheduled in Missouri, at the Kansas City Public Library's Plaza Branch. After all, the book title reflects, Kansas wasn't the only side that suffered.
"Bleeding Kansas, Bleeding Missouri: The Long Civil War on the Border" is scheduled to be released Tuesday, the eve of the 150th anniversary of Missourian William Quantrill's deadly raid on Lawrence. Earle, associate professor of history at KU, and Mutti Burke, associate professor of history at University of Missouri-Kansas City, co-edited the book.
The book's essays illustrate that Quantrill's raid did not happen in a vacuum.
And when it comes to violent acts between anti- and pro-slavery forces of the time, Kansans were not entirely innocent.
"Bleeding Kansas, Bleeding Missouri" brings together essays by 15 scholars to expand understanding of the pivotal region, the violence that besieged it and its overall effect on the Civil War, the book teaser says. Political, military, social and intellectual history help explain why the region's divisiveness was so bitter and persisted for so long.
It's an extremely important area to study, Mutti Burke said.
"The border region saw some of the worst guerrilla warfare in the nation," she said. "Civil society nearly disintegrated during these years as forces raided back and forth across the border, and robbery, arson and murder were everyday occurrences."
Kansans — including Lawrencian Jim Lane — are credited with leading raids on Missouri, stealing property and escorting slaves back to their side of the state line, Mutti Burke said. One of the most egregious raids happened in 1861, when Lane led a group of men that burned, looted and executed nine people in Osceola, Mo. Quantrill also blamed the Union for a Kansas City jail collapse that killed women related to the bushwackers and imprisoned for allegedly supporting them, though historians never agreed on what truly caused the collapse.
Mutti Burke contends that while these events fueled Quantrill and his raiders, their actions in Lawrence remain unjustifiable.
"Lawrence served as a symbol for all that they hated about Kansas and the Union," she said. "They expected armed resistance and when they didn't find any they still went ahead with their plan. Things quickly spun out of control as the guerrillas slaughtered up to 180 unarmed men and boys."
As intertwined as the states are, Earle said their histories are very different — Missouri affiliated with the South and Kansas with the North. Academics usually publish Missouri and Kansas research in venues focused on their respective areas instead of collaborating.
"Believe it or not, that doesn't happen very often," he said. "But it doesn't make sense historically."
Earle said academics may have written the essays in "Bleeding Kansas, Bleeding Missouri" but that they were based on public talks and crafted to be accessible to anyone with interest in the time period.
Contributing scholars to "Bleeding Kansas, Bleeding Missouri" are Aaron Astor, Joseph M. Beilein Jr., Mutti Burke, Brent M. S. Campney, Earle, Kristen K. Epps, Nicole Etcheson, Michael Fellman, John W. McKerley, Tony R. Mullis, Jeremy Neeley, Kristen Tegtmeier Oertel, Christopher Phillips, Pearl Ponce and Jennifer L. Weber.
Earle is the author of numerous books and articles, including "Jacksonian Antislavery and the Politics of Free Soil and John Brown's Raid: A Brief History with Documents." Mutti Burke has published a number of writings on slavery in Missouri, including "On Slavery's Border: Missouri's Small-Slaveholding Households, 1815–1865."
Copyright 2018 The Lawrence Journal-World. All rights reserved. This material may not be published, broadcast, rewritten or redistributed. We strive to uphold our values for every story published.