Becky Chapman says it's the little details that often have the biggest impact on people: how she didn't get to wash her hair or shower for two months; how dead skin accumulated on her feet and legs until her daughter started peeling layers of it off; how she pulled two scabs off the back of her head covered with hair that didn't grow back.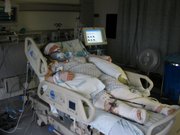 Six years ago, Chapman was driving south of Lawrence when an intoxicated motorist struck her Toyota Camry head on. The impact trapped her in the vehicle, broke both of her legs and caused her to spend months rehabilitating from her injuries, some of which she will never fully recover from.
But Chapman recently decided to speak out, to lend her voice to the fight against drunken driving. She is telling her story as part of the Kansas Department of Transportation's "You drink. You drive. You lose." campaign, which aims to raise awareness about the dangers of operating a vehicle under the influence ahead of Labor Day weekend, one of the most popular times of the year for traveling — and for consuming alcohol.
And earlier this year, she started taking part in a victim impact panel attended by DUI offenders and minors convicted of alcohol offenses in Douglas County.
"I think a majority of the people who make the decision to drink and drive, what is going through their head is 'I can make it home OK,'" said Tracee O'Grady, volunteer coordinator for the DUI Center of Kansas' victim panels. "We want to try to put that thought in their head of 'If I drive home, I can potentially change my life or someone else's life forever.'"
Chapman, then a clerk at Hallmark in Lawrence, was on her way home from running errands on St. Patrick's Day 2007 when, as she went around a bend in the roadway, the two cars in front of her suddenly swerved in different directions. She didn't have time to react or anywhere to turn when she was struck by a pick-up truck driven by a man who had reportedly spent the day drinking in Ottawa.
Visit a victim panel
DUI victim panels aren't just for people convicted of alcohol-related offenses. They are free and open to anyone in the community; parents, for instance, can bring their teenage children. To schedule a visit to a victim panel in Lawrence, call the DUI Victim Center of Kansas at (316) 262-1673.
She spent two weeks in intensive care; another two weeks in a regular hospital room; seven weeks in a nursing home; and three weeks at Lawrence Memorial Hospital learning to walk again. When she got home, she was bedridden much of the time, needing help to get up the stairs and in and out of bed. Thankfully, she met her goal of being able to walk in her son's wedding that August (though she did have to use a walker and have family members push a wheelchair behind her, just in case).
Even now, Chapman, 60, can't sit or stand for very long before her knees begin to stiffen. One of her ankles and one of her elbows don't bend. She can't feel hot and cold on her left leg.
And since she is unable to stand from the ground, she can't get on the floor to play with her grandson; once, when she fell in her garage carrying a carton of eggs, she had to lie there for 45 minutes until her husband came in from cutting the grass.
The drunken driver who hit her, meanwhile, was uninjured in the crash and spent nine months in jail. His blood alcohol level was more than double the legal limit. It was his third arrest for driving under the influence.
Chapman admits it's difficult to not be resentful.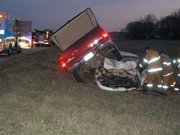 "Once they pay their fines and get out of jail it doesn't affect them," she said of DUI offenders. "It affects the people who survive or the people whose family members passed away. It affects them for the rest of their lives."
Chapman was too injured to ever return to work and now relies on disability insurance. To make use of her time, she volunteers nine months out of the year for Small World, which teaches English as a second language to the wives of international KU students and provides day care for their kids.
And every other month, at the Carnegie Building in Lawrence, she relives the nightmare of her accident in the hopes that she can prevent it from happening to others. Her daughter will soon participate in the victim panels, as well, telling the story of almost losing her mother, then having to become her caretaker.
Chapman says it's been a cathartic experience; she bawled her eyes out the first time she told her story. She just hopes it makes a difference.
"We tell the people, 'We're not here to yell at you,'" she said. "'We're here to make you stop and think before you get behind the wheel. If speaking to you stops one person from doing it, it's worth it.'"
Copyright 2018 The Lawrence Journal-World. All rights reserved. This material may not be published, broadcast, rewritten or redistributed. We strive to uphold our values for every story published.