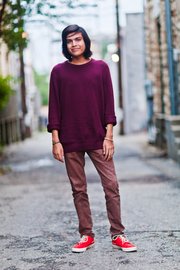 Name: Tanner Marroquin
Age: 17
Relationship status: Single
Hometown: Lawrence
Occupation: Between jobs right now.
Dream job: I'd really like to be one of those type of interpreters at the GA [general assembly] meetings where I'm the person translating what the speaker is saying to the non-native speaker. Or I'd even like to do something in music. I formally play the viola but I informally play the piano.
What were you doing when scouted? At the coffee shop with friends
Describe your style: Whatever is comfortable.
Fashion trends you love: I really like nice, soft fabric that I can sleep in… but still looks good.
Fashion trends you hate: I don't really hate trends: whatever makes a person happy is cool with me.

Fashion influences: I just look around and consult my friends.
What would you like to see more of in Lawrence? Free cheesecake!
Less of? Less heat in the summertime.
Tattoos or piercings: None
Whom do people say you look like? Adam Beach
What type of music do you unwind to? Mostly chill music but most any music tickles my ear.
Tell us a secret: I always make up secret lives for people.
Copyright 2018 The Lawrence Journal-World. All rights reserved. This material may not be published, broadcast, rewritten or redistributed. We strive to uphold our values for every story published.