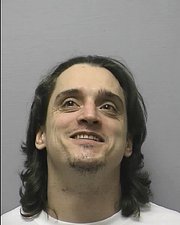 A 30-year-old man has been found guilty of robbery in connection with two July incidents at a pharmacy and a pizza restaurant in Lawrence, where he allegedly threatened several employees, and struck one, with a crowbar.
Matthew Glen Allender pleaded no contest Wednesday in Douglas County Court, after being charged in connection with the July 22 robberies at Domino's Pizza, at 832 Iowa St., and CVS Pharmacy, 4841 Bauer Farm Drive, near Sixth Street and Wakarusa Drive. In both cases, employees told police that a man had threatened them with a crowbar and demanded cash.
Allender, a recent prison parolee who served time for burglary and theft, was arrested near the Domino's pizza restaurant. He is scheduled to be sentenced on Sept. 20.
Copyright 2018 The Lawrence Journal-World. All rights reserved. This material may not be published, broadcast, rewritten or redistributed. We strive to uphold our values for every story published.