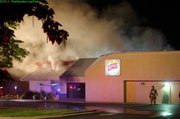 No one was injured in a fire at the Burger King restaurant at 1107 W. 6th St. early this morning, according to Lawrence-Douglas County Fire Medical officials.
Employees at the restaurant reported smoke coming from the roof of the building about 1:15 a.m., according to Fire Medical Division Chief Eve Tolefree. Fire crews called for backup after arriving, and extinguished the fire by about 2:10 a.m.
Employees had evacuated the building before fire crews arrived, and no firefighters were injured, according to Tolefree. The cause of the fire and the damage associated with it were still being investigated today.
The restaurant remained closed this morning, and no information was available about when it would reopen.
Copyright 2018 The Lawrence Journal-World. All rights reserved. This material may not be published, broadcast, rewritten or redistributed. We strive to uphold our values for every story published.