The greenest parking lot on campus
To boost its sustainability cred, the revamped Lot 54 will include:
*Porous concrete to capture and recycle rainwater.
*Bioswales and a rain garden to filter pollutants from lot runoff.
*Added trees to boost water absorption and provide shade.
*Pavement with lighter pigmentation to prevent heat islands.
*LED lighting to cut energy costs.
*A layer made from ground-up bits of the previous surface to recycle it.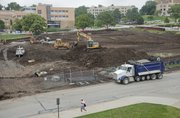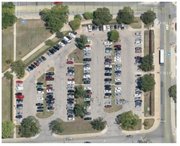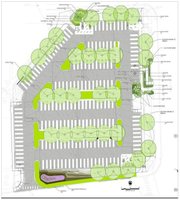 Sometimes to build sustainably you have to bulldoze something first.
So it is with Kansas University's Lot 54, a parking lot between Naismith Drive and Green Hall, which houses the School of Law. Construction workers have ripped it up, recycled its parts, and are preparing to build an entirely new sort of parking lot in its place.
With a water-recycling system, rain garden, energy efficient lights and other green features built into the design, the $1.8 million overhaul of Lot 54 will, officials hope, transform it into a model of eco-friendliness and sustainable construction for parking projects to come.
With work expected to last through the end of September, faculty and staff accustomed to parking in Lot 54 have been moved to nearby lots, including the Allen Field House garage. Graduate students, who in the past were waitlisted for additional spots in Lot 54, will have to find somewhere farther away to park.

The lot was badly in need of some sort of makeover. Paul Graves, deputy director for Construction and Design Management at KU, said that before demolition began in early June, Lot 54's surface had "deteriorated way past its useful life."
Its asphalt was broken and cracked, in need of repair. The lot itself contributed to a traffic jumble at the busy intersection of Irving Hill Road and Naismith Drive. One entryway was so close to the intersection that getting in and out created headaches for drivers. And with two entryways on Irving Hill, neither of them near to the entry for the Field House parking garage, drivers could easily get confused about whose turn it was to turn where.
Putting the "park" back in parking lot
Now as the pavement has been ripped apart and ground into gravel. In its place are mounds of dirt and muddy trenches full of water from the weekend's rain. While construction sites typically fill up with giant puddles and tiny ponds after storms pass, the new design for the lot is specifically tailored to catch the rain.
Designed by Kansas City engineering company TranSystems, the retooled parking lot will use a special cement with built-in pores that let water seep through instead of immediately running off into the gutters or evaporating. From there, basins under the lot will collect rain water. Graves said those basins will be big enough to hold the water from a 100-year flood, or about 8 inches of rain in a 24-hour period.
In addition to absorbing water, the cement also will be also lighter in pigment than the old asphalt. That means it will collect less heat in the summertime, reducing what's called the "heat island effect." Heat islands are bubbles of hot air hovering over large paved areas that can raise energy costs and trap air pollutants.
Captured rainwater will nourish trees planted around the lot. And there will be more of those trees, too, not only to suck up the water but also to shade the parking lot, helping to cool it. The extra vegetation also will make the area more of a "park-like setting," Graves said.
Water will also collect in a rain garden at the southern end of the lot. The rain garden will resemble and function as a tiny wetland, with grasses and other plants soaking in water and filtering out pollutants and nutrients that collect on the pavement before they can escape to the sewer system and make it into the watershed.
The costs, and savings, of going "sustainable"
All these extra features come with high initial costs, some of which will be offset by funds meant to encourage sustainable building. A $450,000 grant from the Kansas Department of Health and Environment will help defray some expense. The KU Revolving Green Loan Fund has committed money for the new LED lights, and the city will help fund the replacement of the sewer lines near the parking lot.
KU Parking and Transit, which typically pays for parking lot renovations, will kick in $500,000 and the university will cover the remaining balance.
Over time the lot will reduce maintenance costs as well. Catching rainwater will save on irrigation costs. Donna Hultine, director of KU Parking and Transit, said she hopes the cement pavement will last longer and require fewer repairs than the asphalt that paved the original lot and other lots around campus. The rain garden will also save money in fees that the university has to pay the city for its runoff pollution.
Time will tell if the cost-saving features will offset initial expenses. Hultine said her office has to wait and see if it can afford to apply Lot 54's sustainable design to renovations of future lots.
At the very least, the lot will make for a nice show-and-tell piece. Graves said its proximity to the Field House and major campus trafficways will help the university "showcase in a very meaningful way" the steps it is taking to implement KU's campus-wide sustainability plan.
Copyright 2018 The Lawrence Journal-World. All rights reserved. This material may not be published, broadcast, rewritten or redistributed. We strive to uphold our values for every story published.