Mark Schmidt began volunteering as a math and reading teacher at his children's elementary school in Topeka in 1995. It was there where he realized that students who were struggling with math weren't struggling because they weren't trying but because they were scared.
"If you can take the fear away from math, you can help them progress at their own rate," Schmidt said.
As he continued to volunteer at the school and help his own children, he began to write poems and rhymes having to do with numbers. Those poems are what shaped the math books and games he's been designing and creating for the past 17 years.
The Ditto Kiddo Club is a series of 11 books for second-graders that jumble together birthdays and animals, cleverly named mathamanimals, to help teach children about numbers through games, counting and illustrations.
"When kids are playing, they don't know they're doing math," Schmidt said.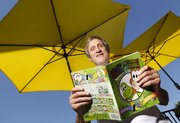 From the get-go, Schmidt knew he wanted to have 10 mathamanimals, each with their own book and number.
He worked on creating the books starting in 1996, and the illustrator, Eric J. Carter, came on board in 2002. Together, they began figuring out who each mathamanimal was, and some of the illustrations Carter created ended up changing the text.
Rough drafts of the books were finished in 2008 and Schmidt knew he needed to test them on an actual audience. Schmidt, who has been a milkman in Lawrence for 22 years, utilized the people he knew from his work route.
"I'd call librarians, teachers, countless folks, give them a red pen, and tell them to tell me what they didn't like," Schmidt said.
After making the changes from the input of his peers, he knew he had to get the approval of the real audience: the kids.
He found a group of about 18 children who became the main critics for the books. He'd send them each a book, a comment card, stickers and a pack of playing cards. After they finished each book, they'd send it back, along with the comment card, so Schmidt could get a better idea of what he needed to change and what the kiddos liked best. Five of the children graduated from the Ditto Kiddo Club, meaning they read and critiqued all 11 books.
"Their comments were really important, so I dedicated a book to each of the five kids," Schmidt said.
With the help of the Ditto Kiddo Club kids and the backing from a KickStarter Campaign, Schmidt was able to finalize and print the books for distribution this summer.
Schmidt's books are available on his website, dittokiddoclub.com, for $10 each, or $75 for the book bundle. They are also available in Lawrence at The Raven Book Store, 8 E. Seventh St., and The Toy Store, 936 Massachusetts St.
Copyright 2018 The Lawrence Journal-World. All rights reserved. This material may not be published, broadcast, rewritten or redistributed. We strive to uphold our values for every story published.