Lawrence crime, fire, courts coverage
Have a tip?
Contact Journal-World reporter Caitlin Doornbos: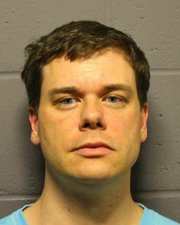 A Lawrence man accused of making secret video recordings of people undressing last winter appeared in Douglas County District Court today, where a judge scheduled a September court date to hear evidence against him.
Douglas County prosecutors have charged Orion M. Graf, 35, a Kansas University graduate student, with 10 felony counts of breach of privacy in connection with a police investigation that involved searching for hidden cameras in the dressing rooms of downtown clothing shops.
Graf was first arrested after an initial complaint in February, and then was arrested again on July 28 after Lawrence detectives searched several local stores and sent evidence to a Kansas City FBI lab that specializes in examining digital devices and computers.
Police and prosecutors have declined to release more details about the allegations, citing the ongoing court case, but the offenses are alleged to have occurred between Nov. 1 and Feb. 23. According to a witness list included in court documents in the case, one store visited by investigators was the Gap Inc., clothing store at 643 Massachusetts St.
In the weeks after Graf's first arrest in February, police also searched for hidden cameras in the dressing rooms of Lawrence clothing store Wild Man Vintage, at 939 Massachusetts St., according to the store's owner, Phil Chiles. The officers didn't find anything, Chiles said, but he would like to learn more about how such a hidden camera scheme might work so that he can watch out for it in the future. "Maybe I'm naive, but I never thought of someone doing that," he said.
A court-appointed defense attorney representing Graf declined to comment on the case.
If convicted of breach of privacy, Graf could face probation or up to 23 months in prison on each count, according to Kansas state sentencing guidelines. He is scheduled to appear in court again on Sept. 30.
Copyright 2018 The Lawrence Journal-World. All rights reserved. This material may not be published, broadcast, rewritten or redistributed. We strive to uphold our values for every story published.