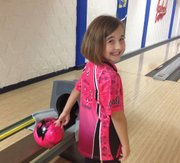 Natalie Savant, a 9-year-old from San Antonio, pulled her pink bowling ball out of her bag today at lane two of The Jaybowl bowling alley in the Kansas Union. It was the third bowling alley she's been to in the past three days and on Tuesday she plans to bowl again, but in Missouri.
Savant's travels are part of her bowling tour of the 48 contiguous United States. She is trying to raise awareness of youth bowling as well as money for a youth scholarship.
"It's amazing how big a sport it is and how close the community is," Savant said.
So far she has raised more than $1,500 and has visited 19 states. During her trip, she's been able to network with other bowlers, which she says is the best part. Professional bowlers Shannon O'Keefe and Stefanie Nation sent her a hot pink bowling outfit that says "Natalie's Striking Summer" after learning of her fundraising efforts.
One day, Savant hopes to bowl as a member of the United States Bowling Congress's Team USA. For now, she plans to continue to bowl in as many states as possible and encourage other kids to pick up a bowling ball.
Learn more about Savant's fundraising efforts at her Facebook Page, https://www.facebook.com/NatsStrikingSummer/info.
Copyright 2018 The Lawrence Journal-World. All rights reserved. This material may not be published, broadcast, rewritten or redistributed. We strive to uphold our values for every story published.