Dozens of friends and family members streamed into the main dining room at Pioneer Ridge Health Care on Sunday afternoon to celebrate Edna Zillner's birthday. They snacked on cookies and tea and took turns visiting with Zillner, who turned 106 on Saturday.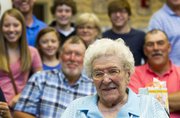 Zillner sat at the front of the room, greeting her grandchildren, great-grandchildren and great-great grandchildren, smiling for photos and soaking up the extra attention.
"It feels good. I feel good," she said. "I just feel young again."
Photo collages stretched across one side of the room, showing Zillner as a child in Eudora in the 1910s, a bride in 1927, a mother of three, and a grandmother later on. Also included were photos and invitations from her 100th birthday party, which was celebrated at the Union Pacific Depot in 2007.
"We've had bigger parties like this ever since she turned 100," said Joyce Halderman, Zillner's daughter. "She enjoys seeing all these people."
Zillner was born in Oklahoma on Aug. 3, 1907. She moved with her family to Eudora at age 6, and graduated from Eudora High School in 1925. Through the years, she worked as a teacher, department store clerk and lunch lady.
According to a 2010 U.S. Census report, Zillner is one of only about 53,000 people over age 100 in the nation, equaling 1.73 centenarians per 10,000 people.
A popular question for Zillner on Sunday was, "How does it feel to be 106?"
"Everything is good about it," she replied.
Copyright 2018 The Lawrence Journal-World. All rights reserved. This material may not be published, broadcast, rewritten or redistributed. We strive to uphold our values for every story published.