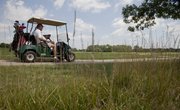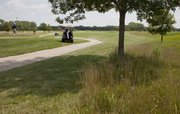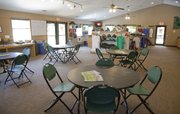 When Darin "Lumpy" Pearson was hired in the spring of 2011 to take over the maintenance and operations at Eagle Bend Golf Course, his goal was to put a shine on the 13-year-old track and turn it into a destination for players throughout Kansas.
If the steady stream of golfers of all ages and abilities that has flocked this summer to the course that sits tucked against the Clinton Lake dam is any indicator, Pearson and his crew have succeeded. The remarkable part about it is, they've sharpened the course more in 21⁄2 years than many thought was possible in five.
"The changes they've made are really remarkable," Shawnee resident Carl Brooks said during a recent round. "Every time we come out here, we see them working on something."
Unlike the game itself, which is played from tee box to green, Pearson, with the help of field supervisor Rod Hoffer and assistant superintendent Heath Bowman, worked backward, first turning the greens into truer, more consistent putting surfaces and then replacing the fairways with zoysia grass —which best can handle typical Kansas summer heat — and transforming areas of dead patches into signature spaces that give the course an identity.
"I like to drive across the dam and look down at the course because you can see the zoysia all the way up there," said Pearson, who spent 13 years as the superintendent at Alvamar Country Club before moving to Eagle Bend. "It's a lighter green color, and you can really see the definition from the fairways to the rough. To me, it's beautiful."
Pearson credits the hard work of Hoffer and Bowman, as well as the unyielding support of Lawrence Parks and Recreation directors Ernie Shaw and Mark Hecker, for the rapid rise Eagle Bend has made in the past couple of years. He and golf professional Greg Dannevik said the commitment from the course's entire staff have helped turn Eagle Bend into a hidden gem in northeast Kansas.
Pearson insists the upgrades were not intended to make Eagle Bend more difficult. Depending on the day — or, more specifically, the shot — most people believe him.
"Obviously, the turf conditions are the improvement that people will notice," said Tyler Cummins, recent winner of the Lawrence Amateur Golf Association's city tournament and director of junior golf at the Kansas Golf Association. "Having nice turf doesn't make the course play any harder, but, psychologically, with how they're growing out the rough between some of the holes, it may seem a little intimidating, which can make it harder.
"For the scratch golfer, a lot of that doesn't really come into play. It just makes it look a lot more like a championship golf course."
That was the goal from Day 1, Pearson said. And he is overjoyed at the fact that what he envisioned has begun to take shape.
"Generally, everything we did was to improve the way the course looked and better frame the holes," he said. "Of course we want it to play great. But we want it to look great, too."
Added Dannevik: "It always used to be maintain, maintain, maintain. And now it's assess and improve, assess and improve every day, all within our means. The best thing about it is, everyone is involved. It's not just a job for the people who work out here."
Many other changes have gone virtually unnoticed. In January, Eagle Bend replaced its fleet of 60 gas-powered golf carts with 62 electric carts, a move that Pearson said has "blown us away" in terms of both financial and environmental benefits. In addition, the pro shop was reorganized to promote efficiency and received a fresh coat of paint, new carpet and a couple of other aesthetic upgrades.
"We're going to keep fine-tuning and changing to make this the best golf course it can be," Pearson said. "There are so many things we can do that can make this place so much better."
If they continue operating at their current pace, neither finances nor resources will stand in the way. Pearson said the work done to the course thus far, if contracted out, would have cost Eagle Bend about $8,000 per acre. By doing it in-house, with on-site manpower and a three-acre zoysia nursery that has been picked and regrown three times, Eagle Bend has saved $6,000 per acre. That's just one area where Eagle Bend has improved its books. The others come from the increase in traffic and the fact that Pearson and Dannevik talk every day about every dollar that's spent.
"We're holding our own," said Pearson, noting that Eagle Bend has at least broken even every month of 2013. "I really think the condition of the course has helped our numbers increase, and we've found a price point that works for us and our clientele."
The price tag is another big draw for Eagle Bend. The cost for a round, for walkers or cart cruisers, on average is just $1.38 higher than the prices they opened with in 1998. On the high end, 18 holes with a cart will cost $26. On the low end, golfers can walk nine holes for $10.
"You can't beat that price anywhere," said Brooks, whose group, which includes golfers from Eudora and rural Douglas County, plays Eagle Bend at least once a week. "This has become our course of choice."
It's not just the locals who have noticed the good things going on at Eagle Bend. A Kansas City-based golf magazine recently made plans to feature the course in an upcoming issue. And people around the state are starting to talk, too.
"What amazes me is when I go to Kansas City or other places and hear positive feedback about Eagle Bend there," Pearson said. "I know the buzz is out there about Eagle Bend, and I think our future is so bright. We know our mission now. We know what we're going after."
Whether that's continuing to care for the course, emphasizing Eagle Bend's role as a learning center for beginners, recent retirees and everyone in between or simply enjoying the vibrant sights and sounds present daily, there's a new sense of pride lingering at Lawrence's youngest golf course these days.
"More than anything," Dannevik said, "I see the progress and the improvements we've made since Lumpy started here, and I find myself getting excited about what this place is going to look like two years from now."
Copyright 2018 The Lawrence Journal-World. All rights reserved. This material may not be published, broadcast, rewritten or redistributed. We strive to uphold our values for every story published.