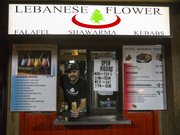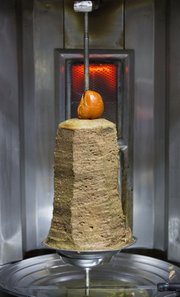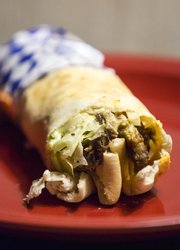 When the late-night crowd approaches the walk-up window outside Fatso's Public House and Stage, tipsy types sometimes ask, "What's this — you don't have any pizza?"
"No," Hani Chahine tells them, "but try this."
The food coming out of that little window now is decidedly different from the Pyramid Pizza slices of yore.
Chahine, who owns and operates the Lebanese Flower with other members of his family, offers a taste of his native country in the form of falafel, shawarma, hummus and other Middle Eastern specialties.
The Lebanese Flower opened in the fall at 1016 Massachusetts St. It's open only evenings and late-night — 5 p.m. to midnight Monday and Tuesday and 7 p.m. to 3 a.m. Wednesday through Saturday.
Chahine said they're seeking to serve a different niche than Aladdin Cafe, which is located across the street. Fatso's, Lebanese Flower's adjoining bar, is nighttime-only, too.
Unlike the tipsy pizza-seekers, Chahine said New Yorkers, Californians, Europeans and other Middle Easterners usually respond with something more like, "Oh! Shawarma!" He said Lebanese food is more commonly found in those locales.
Chahine, whose nationality is Lebanese, was living in Abu Dhabi, United Arab Emirates, before moving to Lawrence with his four siblings and mother in 2001. His father joined later, after retiring.
"He decided to send us to the U.S. when we were in high school, so we would know the culture," Chahine said. "By the time we were in college, it was our home."
The 9/11 attacks happened just weeks after the family arrived, but Chahine said he knew he loved Lawrence when, instead of being harassed as many Middle Easterners were nationwide at the time, the town embraced his family.
"I was very shocked by how we were still treated very nicely," he said.
Once his father joined them in Lawrence, they went into business with the thought, "Hey, we can sell our culture here," Chahine said.
They began packaging hummus and baba ghanoush under the name Lebanese Flower and selling it at the farmers market 10 years ago. They still sell the dips at the Saturday downtown market, as well as through the Merc and Hy-Vee.
The family opened and continues to run Hookah House at 730 Massachusetts St. and Euphoria, a hookah shop located in the breezeway. Several years back they briefly served Lebanese Flower food from the gas station at 23rd and Wakarusa streets but found they didn't have the traffic they needed.
Chahine said the downtown Lebanese Flower is going over well, thanks in part to "location, location, location."
Copyright 2018 The Lawrence Journal-World. All rights reserved. This material may not be published, broadcast, rewritten or redistributed. We strive to uphold our values for every story published.