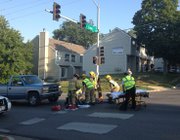 Lawrence police are looking for the driver of a vehicle that hit a male pedestrian at the intersection of Ninth Street and Emery Road about 6:50 p.m. Thursday.
The vehicle, a red or maroon passenger car, continued east a short distance before fleeing the area by traveling north on Michigan Street, said Sgt. Trent McKinley, a Lawrence Police Department spokesman.
Police have not identified the pedestrian, who was taken by ambulance to Lawrence Memorial Hospital and later transferred to a Topeka-area hospital. More information about the pedestrian's condition was not available this morning.
Police have asked anyone who may have witnessed the accident to call police dispatchers at 832-7509 or Crime Stoppers at 843-TIPS (8477).
Copyright 2018 The Lawrence Journal-World. All rights reserved. This material may not be published, broadcast, rewritten or redistributed. We strive to uphold our values for every story published.