Photo Gallery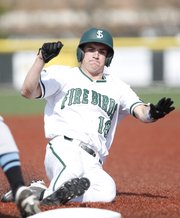 Free State baseball v. Shawnee Mission East
Images from Monday night's game against Shawnee Mission East.
Sunday afternoon at practice, Free State High's baseball players learned that Thursday's cold and wet weather forecast meant they would be playing at home against Shawnee Mission East on Monday instead.
Following a two-home-run, five-RBI afternoon at FSHS, Firebirds leadoff hitter Joe Dineen had no complaints about rescheduling.
"The wind blowing out helped a little bit," Dineen said after his solo home run in the first inning and grand slam in the second led Free State to a 6-1 victory and at least a share of the 2013 Sunflower League championship.
The junior left fielder sent a high, down-the-middle offering from Trey Austin over the scoreboard in left field (the direction the wind was blowing) to lead off the first. It was Dineen's second homer of the season and first since April 2.
"If you start off with a home run, you have confidence throughout the rest of the game," he said. "I think it just got the team ready to go. It helped Dane (McCullough) come out and pitch."
Free State's senior right-handed ace, McCullough (6-0), scattered seven hits, struck out six and walked one in a complete-game win. He had a six-run margin working for him most of the afternoon following a five-run second inning for Free State (14-1 overall, 9-0 Sunflower League).
Sam Hearnen walked to lead off the second, Cameron Pope doubled to left, and Zach Bickling drew a one-out walk to load the bases. Once Joel Spain drew another base on balls for a 2-0 FSHS lead, SM East coach Jerrod Ryherd relieved Austin with Jay Anderson.
However, Anderson fared no better versus Dineen, who clubbed another long ball to left by staying back on a low pitch over the plate.
"They tell you not to try to hit the second one," Dineen (2-for-3) said, "but I wanted to. I swung pretty hard. The wind took it out."
Firebirds coach Mike Hill didn't have to be so modest. He said air currents just intensified Dineen's shots.
"But he got hold of both pitches, big time," Hill said. "That's what he's capable of."
Dineen (.280 batting average, 12 RBIs) said he hadn't been hitting well this season, so Monday was a welcome change. Still, teammate and senior first baseman Jacob Caldwell indicated none of the Firebirds were surprised to see Dineen knock out two in two innings.
"He knows how to swing the bat, and he doesn't get his head down when he's struggling," Caldwell said. "He can put the ball out on any given day, even if the wind's not blowing out."
After Caldwell tripled in the second, the Firebirds only came up with two more hits the remainder of their third straight victory.
"With Dane on the mound and a six-run lead and our defense, we're really confident," Caldwell said, "and want to put more (runs) on the board."
Eight FSHS pop-ups frustrated Hill more than anything.
"Frankly, we didn't put a lot of pressure on their defense," he said. "Fortunately, we were able to get a big enough cushion early, and when you've got Dane on the mound dealing, it's enough for us."
The Firebirds can clench the Sunflower League championship with a win tonight at Olathe North.
Shawnee Mission East 000 001 0 — 1 7 0
Free State 150 000 X — 6 6 1
W — Dane McCullough (6-0). L — Trey Austin.
2B — Gunnar Troutwine, Mitchell Tyler, SM East; Cameron Pope, Free State. 3B — Jacob Caldwell, Free State. HR — Joe Dineen (2), Free State.
Free State highlights — McCullough, 7 IP, 6 K, BB, 7 H; Dineen, 2-for-3, 5 RBIs, 2 R; Pope, 2-for-3; Joel Spain, 1-for-2, RBI; Lee McMahon, 1-for-3.
Copyright 2018 The Lawrence Journal-World. All rights reserved. This material may not be published, broadcast, rewritten or redistributed. We strive to uphold our values for every story published.