Amber Nickel was tending bar in the early 2000s when a Leadership Lawrence class gathered in her establishment.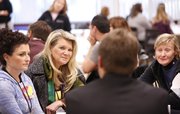 "They looked like interesting people, having an interesting time, talking about interesting things, which is unusual in a bar," she said.
At the time, Nickel felt disconnected from the community she called home. Not anymore.
The leadership development program, from which she graduated in 2008, "made all the difference in the world," she said. "It took me down a new path of personal involvement in the community."
Five years later, Nickel owns a small business (Pawsh Wash), using lessons she learned in the class to manage her employees.
"It took me from this bartender who was grooming dogs to a professional business owner," she said. "It has made it so I'll probably never leave Lawrence. I now feel committed and empowered to have a really great life in this community."
Nickel is one of nearly 700 graduates of Leadership Lawrence, which was founded more than three decades ago to help shape the leadership ranks of the community. Graduates range from small-business owners to Kansas University staff members, hospital administrators to nonprofit employees.
From September through April, participants in the Lawrence Chamber of Commerce-sponsored course meet once a month, studying such topics as education, social services, government, economic development, wellness, media and the arts.
About 50 people apply for Leadership Lawrence annually. In narrowing the list to around 30, organizers try to pick people from a wide array of personal and professional backgrounds. "The more variety, the more we all learn," said Sue Hack, executive director of the program.
"This isn't a boot camp for City Commission candidates or County Commission candidates," Hack said. "We really touch all aspects of the community."
Hack had retired after 34 years as a middle school teacher when she signed up for Leadership Lawrence in 2000. The course gave her the confidence to run for public office. "When I took the class, I became more and more energized to be a city commissioner," said Hack, who served in that role from 2001 to 2008.
Several others have followed similar paths. Leadership Lawrence Graduates currently sit on the City (Jeremy Farmer) and County (Mike Gaughan) commissions. They also have leadership roles in such places as the Lawrence Memorial Hospital Endowment Association (Kathy Clausing-Willis) and the Douglas County Department of Administrative Services (Sarah Plinsky).
According to a recent survey of the program's graduates, 84 percent have gone on to serve on a board or committee or otherwise volunteer in the community; 35 percent have run or would consider running for office; and 72 percent have worked on a political campaign.
"It's one of the reasons I'm still in Lawrence," 1996 graduate Curtis Marsh said.
He said the program showed him that Lawrence had like-minded people passionate about strengthening the city. Now, through his job as the program director of KU Info, Marsh strives to connect the university with the community in which it resides.
Different types of leaders
Michelle Fales, a lender at Silver Lake Bank, said the course isn't just for typical Type-A-personality leaders. It's also for people who prefer working behind the scenes — people like Fales. Not comfortable running for office herself, she has instead helped out on political campaigns.
"Every leader is different. You have to know where the person's strengths are best used," said Fales, a member of the Class of 2007 and current chair of the Leadership Lawrence Advisory Board.
The course also aims to break people out of their comfort zones, such as a recent exercise that involved a lot of public speaking: a mock City Commission meeting. That activity also helped humanize the actual leaders of Lawrence, by showing participants how challenging the governing jobs can be.
"Now we're not so quick to judge when we see in the paper that things didn't go so well," Marsh said.
Bryan Culver, vice president at Peoples Bank and a 2008 Leadership Lawrence graduate, said the class helped him better understand the resources available to residents of Lawrence and how he could become a cog in its improvement. "It was a wonderful opportunity for me, personally and professionally, to learn more about our community," he said.
Copyright 2018 The Lawrence Journal-World. All rights reserved. This material may not be published, broadcast, rewritten or redistributed. We strive to uphold our values for every story published.