Lawrence High softball pitcher Megan Sumonja picked the wrong day to have a great outing.
The sophomore right-hander had one of her best pitching performances go to waste Saturday, picking up a complete-game loss in the Lions' 3-0 setback against Olathe North at Free State.
"That's one of the top hitting teams in the league, and she gave us an opportunity to win that game," LHS coach Nick Wood said. "Unfortunately, we just didn't get hits to go along with it."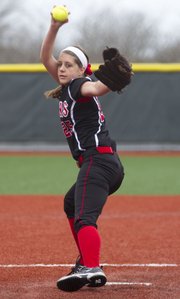 That didn't take away from Sumonja's effort.
She struck out 11 while walking three.
"I felt like if I kept throwing the curve, that they wouldn't touch me," Sumonja said, "because they were all trying to pull it."
Sumonja allowed three runs (two earned) and also surrendered seven hits.
"The biggest thing I saw from her is that she got ahead in the count," Wood said. "Once she got ahead, she was in charge of where she could place her pitches. She did a really, really great job of mixing up speeds."
Unfortunately for LHS, its offense wasn't able to give much support.
The Lions were hitless until the seventh, when Morgan Byrn finally broke through with a one-out double. That ended up being the Lions' only hit against North starter Katie Usdansky.
"We didn't make an adjustment," Wood said. "We were out on our front foot the whole time. Our weight wasn't back.
"We have to find a way to get better at that. We'll get in the cages (today), and we'll hit and get better at it."
Brook Sumonja was the only other LHS player to reach base. She walked in one of her two plate appearances.
"We've been a good hitting team all year," Wood said. "It's disappointing that we came out and get one hit — that's not who those girls are. But we'll get it fixed, and we'll be OK."
LHS (4-10) will play Monday at Leavenworth.
Olathe North 101 000 1 — 3 7 0
Lawrence 000 000 0 — 0 1 1
W — Katie Usdansky. L — Megan Sumonja.
2B — Morgan Byrn, LHS.
LHS highlights — Megan Sumonja CG, 3R, 2ER, 11K, 3 BB; Morgan Byrn 1-for-3, 2B; Brook Sumonja 0-for-1, BB.
Copyright 2018 The Lawrence Journal-World. All rights reserved. This material may not be published, broadcast, rewritten or redistributed. We strive to uphold our values for every story published.